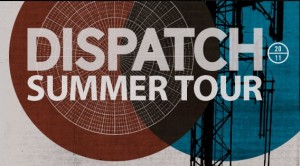 People can debate the value of social media to companies like Sirius XM, but in the end creative promotions on sites like Twitter and Facebook can and do deliver results. Dispatch, a Boston based band, has come up with a very creative way to use social media to promote the band and their upcoming summer tour. The concept is very simple, delivers value to consumers, and accomplishes the goal of promotion. It is an idea that Sirius XM may want to consider at some point in the future.
Dispatch, and independent band, is giving away their first four studio albums to anyone who becomes a follower on Twitter, "Likes" their page on Facebook, and sends out band tour information to five friends. The task is simplified by lins on the band website, and for a few minutes work a consumer is treated to four albums worth of material.
The concept takes full advantage of social media by delivering value to the consumer. ReTweets are popular, but we live in a "what is in it for me" society. Dispatch has figured out a unique concept that actually gives the consumer something in exchange for their efforts, a rarity lately. Sirius XM could do well by taking a page from the Dispatch promotion. They could actually boost site traffic, get consumers more involved, and gain valuable marketing information for future marketing campaigns.
Sirius could do channel specific promotions as well as more generalized promotions. The prizes could be anything from a free month of service to studio tours, to new hardware. The possibilities are endless. The real beauty here is that dozens of promotions could all be happening at the same time. You name the channel, and they could run a promotion. The key is having some sort of reward for the consumer. Can Sirius XM monetize social media? The answer is yes. It simply takes a creative promotion.
If you are interested in some cool music from a band that has sold out Madison Square Garden, consider doing these simple social media tasks. A few minutes of your time will give your hours of listening enjoyment! Dispatch is hitting six great venues in June of 2011. Tickets go on sale January 28th. These are great shows, so get your tickets early.
Position - Long Sirius XM Radio