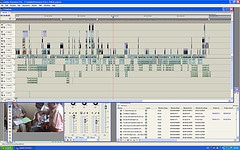 After watching the action of the stock price for the last 2 days, I'm convinced the manipulation of SIRI and XMSR will continue unfettered despite SIRI being listed on the Regulation SHO Threshold List for the last 3 weeks. It's apparent that threats of naked shorting crackdowns by the Securities and Exchange Commission are having little effect on Sirius; except to the extent that the manipulators are avoiding bank stocks and have seemingly turned their attention to a couple of non-essential securities like Sirius and Xm.
So what can be done about this? If the SEC will not protect the shareholders of Sirius, perhaps its time that the company did. I would suggest that with the merger details being ironed out, it may be time for Sirius to consider changing its symbol to more reflect the merged entity, possibly to SIRX or the like. The symbol wouldn't matter, as long as it is not SIRI.
I used to work for Dean Witter, which was one of the biggest and most respected brokerage firms in the nation. When we merged with Morgan Stanley, the symbol changed from DW to MWD. Morgan Stanley now trades as MS. Old timers may recall that Sirius was originally named CD Radio Inc., and traded under the symbol CDRD.
I sincerely hope the company is considering a ticker change. The benefits of a fresh start would be a welcome change. For starters all program trades would be rendered useless. All high limit and stop loss orders would need to be reentered. The market would be free to redetermine the value of the merged company.
As I stated in my last article, the best outcome for shareholders would be a Friday after-hours announcement of approval. Not only would this give the company an extra day to consummate the deal, it would castrate the NAB, which I'm sure is parked outside of a D.C. courthouse right this moment with filings in hand. By Monday morning, the deal would be complete and unstoppable.
Looking ahead to Monday however, and assuming all of this happens, we would probably see Sirius bid higher. Program sell orders would then take effect and begin to knock the price per share back down precipitously as we have seen done since yesterday when the stock opened at 2.75. A new symbol would prevent this and allow the market to revalue the combined company, in a fair and balanced way.
Position: Long Sirius, XM.