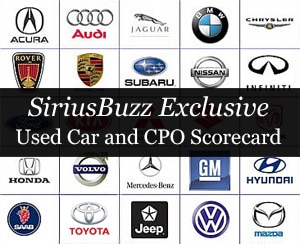 Satellite radio is a passion for many subscribers and investors. People love data and love to crunch numbers, but sometimes there is not a lot of information to work with. That has been the case with the used car market and Certified Pre-owned (CPO) segments of the OEM channel. Sirius Xm has made many CPO deals, and used cars equipped with satellite radio have existed for several years now. The issue is that Sirius XM offers little information in terms of what the used car segment really means. The reason for the lack of information is simple. It has not been a major contributor to the subscriber pool.
Now, with most CPO programs in the system for a year or more, the used car segment will become a more distinct contributor to the subscriber numbers. Simply stated, it takes time for the channel to ramp up to a level where meaningful results are tangible. That time is starting now, and it is for this reason that SiriusBuzz is committed to covering the channel on a daily basis and implementing a weekly scorecard so that you the reader have a quality source supported by real data.
In developing this series there are many potential sources that exist. I have chosen to utilize CarMax and Vehix. Other sites dealerships, sites and services exist, but it is important to avoid duplication. I chose CarMax as representative of a national used car dealership that readers are familiar with. Because of the size of CarMax, their information tends to be updated regularly, and input in a consistent manner. CarMax also has a deal with Sirius XM, so it is a source that has been vetted by the company in many ways.
I chose Vehix.com because they cover the entire country, are familiar to consumers as well as dealers, and are dedicated to connecting consumers with dealers. This means that their information gets updated regularly, and that hundreds if not thousands of dealers participate. This enables us to garner confidence in the pool of vehicles because it represents various aspects of the country.
The SiriusBuzz Used Car And CPO Scorecard is by no means scientific data. It is instead a collection of data that has been refined to determine the possible size, scope, and penetration of satellite radio in the used car and CPO channel. We will present the data with some options for conversion that will allow you the reader to better understand the contribution this these channels make to satellite radio's subscriber pool.
At some point Sirius XM will begin to market to the used car market and idles radio's. We will know that the used car and CPO programs are substantial enough of a contributor when this happens. By following our series of weekly articles tracking the data, readers will be ahead of the curve.
The SiriusBuzz Used Car And CPO Scorecard will be published each Tuesday exclusively on SiriusBuzz.com. We look forward to hearing your input, and are proud deliver this additional insight for readers.
Position – Long Sirius XM Radio