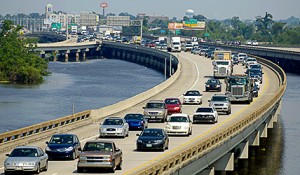 24/7 emergency channels on both SIRIUS and XM chart course and effects of storm, provide comprehensive evacuation, safety, weather and life-saving tips.
SIRIUS XM Radio announced today that both SIRIUS and XM Satellite Radio are broadcasting 24/7 comprehensive emergency news, weather, safety, evacuation, disaster recovery and traffic reports across multiple channels to help people across the country prepare for Hurricane Gustav, including channels dedicated to providing emergency evacuation information.
SIRIUS' and XM's emergency channels offer news, weather updates and safety tips for residents in affected areas and their loved ones, including updates from government officials and first responders such as the Red Cross, FEMA and other local officials and agencies; evacuation routes and plans including special instructions and information for senior citizens; local emergency aid phone numbers; in-depth analysis and details on the location and strength of the storm, with an explanation of the winds and pressure of the storm and its projected path and landfall expectations; comprehensive shelter information and location; safety tips on how to prepare for the storm; what to do if ordered to evacuate; what items to bring when evacuated and what items are needed to ride out the storm at home; and what to do with pets, boats and homes.
Listeners will also hear the difference between storm watches and warnings; safety tips on how to deal with severe storms and flooding; post-storm strategies including when it is safe to go home; locations of power outages and how local gas stations are affected by them; and where to find vital supplies such as water, ice, food and batteries.
SIRIUS Weather and Emergency channel 184
XM Emergency Alert channel 247
SIRIUS' and XM's news and weather channels deliver the latest breaking national news on the storm, its path and how it affects the county.
CNN, SIRIUS channel 132 and XM channel 122
CNN Headline News, SIRIUS channel 133 and XM channel 123
CNN en Espanol, SIRIUS channel 92 and XM channel 126
Fox News, SIRIUS channel 131 and XM channel 121
The Weather Channel XM channel 125
Political talk channels on SIRIUS and XM provide details on impact Gustav may have on the Republican National Convention.
POTUS '08 anchors and SIRIUS Patriot's Andrew Wilkow will report on the storm and its potential impact on the GOP convention as part of their wall-to-wall coverage live from St. Paul, MN.
POTUS '08, XM channel 130
SIRIUS Patriot channel 144