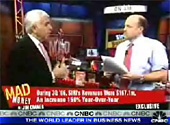 Yesterday Jim Cramer of Mad Money on CNBC interviewed Sirius CEO Mel Karmazin and all is well for you stockholders. Cramer started his show off by saying "On Wall Street, nothing makes players happier than growth" and one stock that has growth is Sirius Satellite Radio. Then Jim rolled right into some of what he considered the sticking points of the Q3 conference call.
Cramer jumped right in and asked Mel how he got his acquisition cost down 23%. "It's what we said would happen," Karmazin said. "As we get more and more volume out there and subsidies go down, we're very much on track to get it down."
When Cramer asked if bringing in Howard Stern worked, Karmazin said "We had 600,000 subscribers on the day he was announced and now we have 5.1 million. If you listen to Stern, he says it's because of him, and I'm not going to disagree with Stern. All we needed was a million incremental subscribers to make Howard pay for himself and he did."
In response to Cramer's next question, Karmazin said getting Nascar "is a very big deal." Cramer then went on to emphasize how big he thinks this deal is and how this deal will help boost normally stale Q1 subscriber rates.
When asked about the possibility of a deal with XM Satellite Radio, Karmazin said that while he believes "there is value creation by putting two companies together," he then goes on to say "I'm interested in building a long-term value for our company and am open to anything that's in our shareholders' best interest but, we don't need to do a deal, and don't know if we ever will do a deal." Which goes solidly along with his quote in his Q3 call "You should assume that we will be looking to kick their ass, in the fourth quarter."
Early today Sirius stock is up 3% on the news. Hip Hip Hooray.