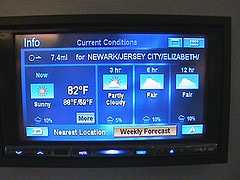 The first time I bought Sirius stock was back in 2003. I averaged my purchases out at 1.31 per share. I sold when it hit 9.00 because as a realist, I understood then that the gains were not sustainable. I would never have thought I would live to see the stock retreat to such an attractive level again in my lifetime.
A recent JD Power & Associates report indicates that satellite radio penetration is rapidly rising. This is wonderful news for Sirius Xm investors and consumers. But there is something being completely overlooked by Wall Street, which translates into an exceptional ground floor opportunity for investors.
I've been bullish on satellite radio since I first became a subscriber. The service is outstanding. I often see writers who do not share my optimism who publish articles stating that Sirius will lose market share to such things as Ipods, hybrid digital radio and the Internet.
I could go into details as to how higher penetration rates offset lower auto sales. I could write about the extra revenue that will come from offering Howard Stern on XM or the expected increase in ad sales. Those things apply to satellite radio. I believe that people mistakenly view Sirius XM as only a satellite radio company, and therein lies a major problem with respect to the current valuations.
Sirius XM has many revenue opportunities other than satellite radio. We've all heard of Backseat TV, and many have hardly given it a second look. Overlooked by Wall Street geniuses is that it is now being made available in the automotive aftermarket. It's even made it's way into the latest Crutchfield catalog. Their Sirius Music for Business service is taking market share from Muzak. Sirius Marine Weather provides high-quality marine weather information to pilots and mariners. All these services create extra revenue streams and help lower churn, as the ancillary services are dependant on a Sirius XM satellite radio subscription.
There is a lot of potential in the used car market also, as Sirius XM equipped vehicles are traded in and resold. Most beneficial is that there are no chip subsidies on these secondary subscribers. But the MOST overlooked aspect of Sirius XM revenue comes from the new navigation systems.
Starting right now, with the Ford 2009 model year, the Sirius Travel Link system is available. Not only is this another revenue stream, the important aspect is that it is bundled with the satellite radio service. That means vehicle owners who want the navigation system will not be canceling their Sirius XM subscription. Likewise, on the XM side, XM NavTraffic will be available in 22 General Motors models this year, as well as Infinity and Porsche.
From the JD Power report:
 "For instance, nearly 60 percent of consumers say they want a navigation system on their next vehicle, and 66 percent of consumers want the ability to play MP3 files. To meet or exceed consumer expectations, manufacturers will need to focus on incorporating high-tech features in multimedia systems while avoiding increases in problem levels."
All of this creates the potential of lower churn and higher revenues. With the cost cutting underway, the debt issues resolved and new revenue sources, I'm now more bullish than ever. It's time to stop looking at Sirius XM as a satellite radio provider, and start looking at them as a complete technology company. When Wall Street figures this out, I'll be kicking myself for not owning enough shares.