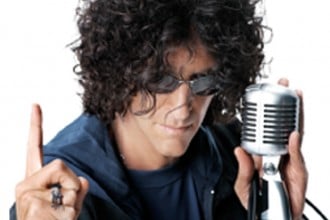 As most who follow Sirius XM already know, Howard Stern is in the final months of his 5 year contract with Sirius XM Radio. Stern was responsible for a huge boost in both the number of satellite radio subscribers as well as the awareness of satellite radio. He also has is one of the most popular and listened to channels on Sirius XM, and a driver for those on the XM platform to subscribe to the Best of Sirius.
In Sirius XM's Q2 conference call today there was no talk of Stern until the very end when Sirius XM's Mel Karmazin announced that the company hopes to have an announcement prior to the Q3 earnings call. The third quarter runs through September, and typically the company reports about 5 weeks later. That would mean that it is anticipated that a decision will be known sometime in the next three months. We have waited this long....what's a few more moths?

What will happen first....The Stern deal or the XM5 satellite launch?

There are some interesting dynamics at play that should also be considered. Let's first assume that Stern will re-sign. He himself has indicated 70% odds that this would happen. Will Bubba The Love Sponge come with the deal? There is speculation that Bubba will go by the wayside in favor of his terrestrial deal and Radioio (internet radio service) deal. Will Stern remain on the Sirius platform or be moved to the XM platform? The Best of Sirius thus far is more popular than the Best of XM, but the company seems to be leaning toward the XM side with hardware. How many days a week will he work? How long will the deal be, and perhaps more noteworthy, will he be available on the mobile platform? There are many aspects to this deal, and it is complicated by the various platforms.
The original Stern deal was oft misunderstood by nearly everyone. Hopefully this deal will clearly spell out all of the platforms, as well as the anticipated costs in a way that the street understands. In the original deal people thought all of that money went to Stern. That was not the case. It was a budgeted amount that went to pay for the content on the Stern channels.
It looks like we have less than 90 days before we know Stern's decision. The clock is ticking, fans, investors, and the street all are eager to know the outcome.
Position - Long Sirius XM Radio