Vehicle sales for August 2007 are in, and there are mixed results. On the positive side of things, seventeen brands saw sales increase as compared to only eleven in July. The data provided in this monthly article relates to auto sales and market share of the respective brands. Investors should note that the data is not reflective of satellite radio installations.
Various companies have differing installation deals, and some are far more ambitious with installations than others. If you are invested in satellite radio, it is in your best interest to keep tabs on the automotive world, as it is a big contributor to satellite radio subscriptions.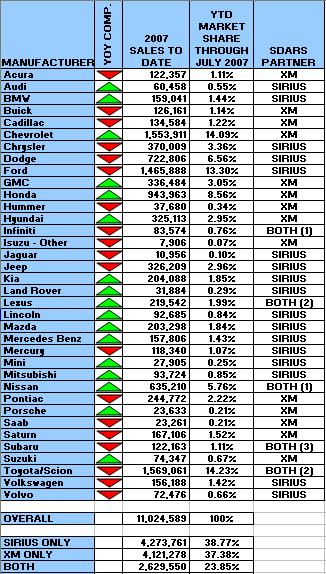 Position - Long Sirius, Long XM, No Position OEM's
1) Nissan has a Factory install deal with XM and a Port/Dearer Install deal with Sirius.
2) Toyota has a Factory install deal with XM and a Port/Dealer install deal with Sirius.
3) Subaru has a factory install deal with both Sirius and XM. The installations happen by model.