The Auto Sales And SDARS Relationships report is updated monthly with new sales data that sector watchers may find useful. We now include estimates for penetration rates (installation of SDARS receivers) broken down by brand as well as an estimated number of installations in the OEM channel on a year to date basis. We caution that the installation data is a very rough picture of the situation. Penetration rates are based on production, and this data is based on sales. Please refer to note (3) on the chart below for additional information that is important when considering this data.
In April 2008, eleven of the thirty-five major auto makers saw positive year over year results. This compares to last month where only seven brands saw year over year increases. Through 2008, there have been 4,530,793 vehicles sold. This represents a drop of almost 14% from the 5,258,858 vehicles sold through April of 2007.
The OEM channel is an important sales channel to satellite radio. Slumping sales should represent some concern, but the ramp up of installations is more than offseting the drop in sales. Still, this does impact the sector as many have begum to temper growth estimates. Prolonged sales woes in the OEM channel will carry a deeper impact to SDARS.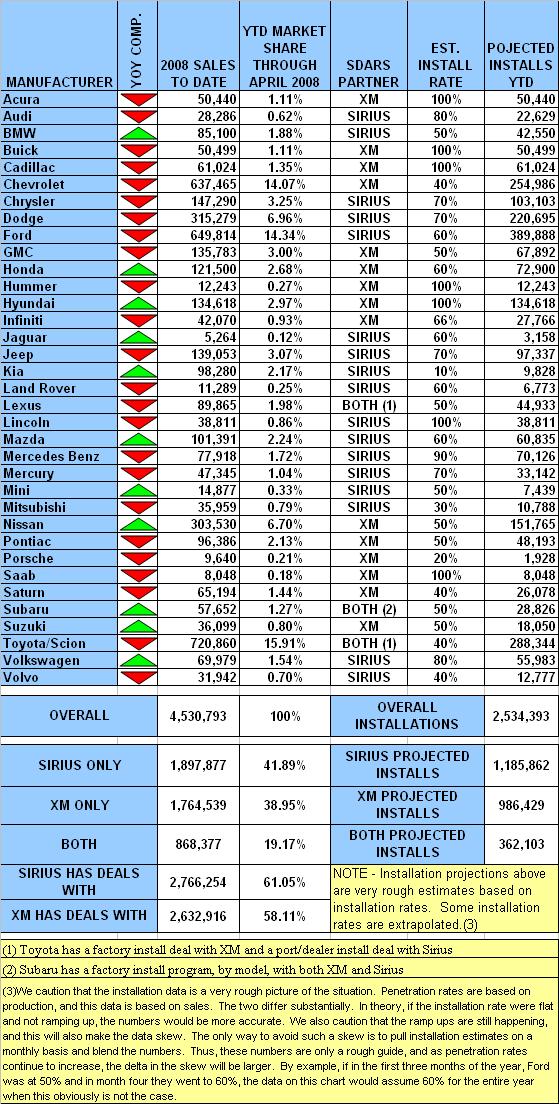 Position - Long Sirius, Long XM, No Position OEM's