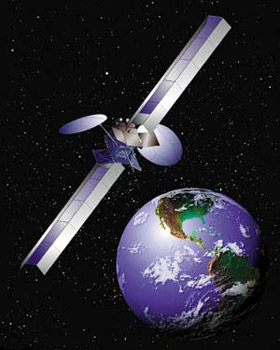 Conspiracy theorists will love this article. There are many who feel that Sirius XM Radio stock is heavily manipulated. In many ways, it is hard to argue against that stance. However, like many things in life, it is hard to find the smoking gun, and thus the debates begin.
Sirius XM Radio has a $100,000,000 credit facility with Loral Space systems. The credit was established for payments to Space Systems Loral on Sirius XM's FM-5 and FM-6 satellites. Okay, conventional thinking states that the line of credit can not be drawn on to pay down the February debt. While this is true, there are provisions for Sirius XM to draw against payments already made. Simply stated, they could take back every nickel they have paid into the satellites back and use it as working capital. Further, they could continue to draw on the facility to keep the satellite construction rolling along.
THE CATCH
Sirius XM needs to decide on whether or not to use the credit facility by December 19, 2008 (The day after the annual shareholder meeting)... BUT... Sirius XM also needs to have a market cap of at least $1,000,000,000 to borrow.
According to the Space Systems Loral 10Q for Q3 2008:
"...Under the Credit Agreement, Sirius may borrow up to an aggregate principal amount of $100 million to make milestone payments under the Satellite Purchase Agreement for the purchase of the Sirius FM-5 and FM-6 Satellites (the "Sirius Satellites") or, on or prior to December 19, 2008, to reimburse itself for milestone payments it has previously made with its own funds. Loans made under the Sirius Credit Agreement are secured by Sirius' right, title and interest in its rights under the Satellite Purchase Agreement, including its rights in and to the Sirius Satellites. The loans are also entitled to the benefits of a subsidiary guarantee from Satellite CD Radio, Inc. and any future material subsidiary that may be formed or acquired by Sirius, other than XM Radio and any other subsidiary designated as an "unrestricted subsidiary" under the indenture governing Sirius's 9 5 / 8 % senior notes due 2013...."
According to Sirius XM's 10Q
"...The Loral Credit Agreement contains certain drawing conditions, including a requirement that SIRIUS have a market capitalization of at least $1 billion. Any loans made under the Loral Credit Agreement generally will bear interest at a variable rate equal to three-month LIBOR plus 4.75%...."
Simply stated, there is a substantial credit line available that could give Sirius XM Radio some much needed breathing room, but the clock is running short, and the market cap is too low. The market cap here at .26 cents is $855,000,000, a good $145,000,000 shy of the credit facility requirement. What does it take to get above $1,000,000,000? A stock price of .31 cents.
This is where the conspiracy theorists will go nuts. Sirius XM Radio seems stuck in its current range. Each day that passes with a market cap below $1 billion is another day where the hands of Sirius XM are tied. With the deadline only a few weeks away, and the stock price not cooperating, it is little wonder that the Board and Management are looking at several viable options. Those that feel the company is not thinking things through can rest assured that management is well aware of the situation. What we have is hesitant banks, and a deadline of December 18th on a credit facility. Someone has to blink first. Loral's own $100,000,000 credit facility is through JP Morgan, so it is possible that somehow an arrangement between Sirius XM, Loral, and JP Morgan could be arranged, but time is getting critical.
For the reason of the credit facility it is my opinion that Sirius XM will want to be able to announce some sort of refinancing prior to December 19th, in hopes that the market cap will appreciate by then, allowing the company some flexibility in their cash situation.
Is someone deliberately holding Sirius XM stock below .31 cents? The conspiracy theorists will say so, and while there is no smoking gun, it is hard to argue against their stance. The bigger question is whether Mel can exert his influence to get the financing done, see an appreciation in the stock price that will allow more room to maneuver.
All that being said, there is still no guarantee that Sirius XM has any intention of using the facility, but the leverage comes from being able to use it....not necessarily from actually doing so.
Position: Long SIRI.