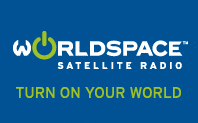 WorldSpace, Inc. (WRSP) a satellite radio service operating in countries outside the United states, has announced it, as well as all U.S. subsidiaries (which include WorldSpace Systems Corporation and AfriSpace, Inc.) have filed for reorganization under Chapter 11 bankruptcy codes. The effective date of the filing is October 16, 2008.
The Board of Directors of WorldSpace were unanimous that Chapter 11 reorganization was the best current path for the company which needs to raise capital to repay its senior secured and convertible notes. Options may include an all out sale of the company and its assets if Worldspace is unable to raise sufficient capital.
Under the bankruptcy WorldSpace will continue to operate. The holders of the Company's existing senior secured and convertible notes have agreed to provide (with stipulations), a financing facility of up to $13 million. The financing should enable the Company to make payroll with employees needed to continue operations.
At one point Worldspace had involvement in launching XM Satellite Radio. XM also owned stock in WorldSpace a few years ago, but the investment never panned out. Worldspace had been in financial trouble for well over a year.
Thanks Demian and others.
Position – No Position WorldSpace, Long SIRI