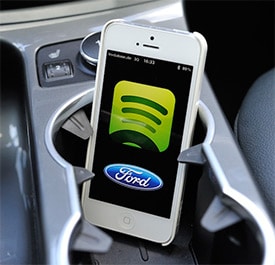 Spotify announced today that they have partnered with Ford Motor Co in a deal that will bring their music streaming service to all Ford models with SYNC AppLink. This will give the current 20 million active Spotify users voice activated access to their over 20 million song catalog.
This deal marks Spotify's first, in what they hope will be many, collaborations with U.S. based automakers. With Pandora currently in 75 vehicle models from leading manufactures such as General Motors, Ford, BMW, and Chrysler, this Swedish based startup still has a bit of catching up to do.
When you consider the 1 million people already using Pandora's dashboard integration and then talk about adding Spotify to mix, one thing is clear, terrestrial radio is (even more) doomed.
Spotify will roll out this new service in the one million vehicles in the U.S. already sporting the SYNC AppLink in the coming weeks.