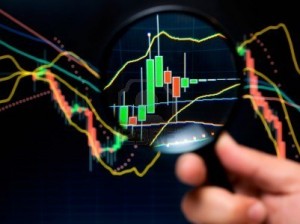 This technical update is typically a SiriusBuzz Premium article, but is being made available to all readers as we do from time to time.   SiriusBuzz Premium carries additional articles, in depth analysis, daily updates, instant e-mail alerts, as well as out Bullet Points which are quick bursts of news that investors may want to take action on.   If you are a serious investor in SiriusXM and are looking for regular updates that tell you what is happening, then SiriusBuzz Premium should be something you consider.  If you are a more casual reader enjoy this article as a freebie from SiriusBuzz Premium.
Before getting into the action of the day, we need to step back and look at what updates have been made available in the past week or so leading into this.
October 31, 2012
In a Premium article titled "Get Ready For The Call" I noted that there were some important aspects to the Q3 call that would determine if SiriusXM was headed to new highs or was going to peak out.
 "If SiriusXM gives out 2013 guidance and announces a share buyback tomorrow, I can see this equity push toward 52 week highs. If the call is absent either of these, the peak may be at $2.95. This call will establish a new baseline to work from.  The overall story on SiriusXM is bullish. I do not worry about the downside unless we break into the $2.60?s. because the street is still in Sandy recovery mode, there could be some interesting days."
November 1, 2012
SiriusBuzz Premium Bullet Point sent at 7:42 AM – "SiriusXM announced results but offered no 2013 Guidance.  Look for tepid reaction."
SiriusBuzz Premium Bullet Point Sent at 8:11 AM – "Karmazin indicated that the company will be under leveraged in 2013 and stated that returning capital to shareholders at the next Board Meeting.  This would seem to indicate that share buybacks and/or dividends are not going to happen in the immediate future.  Again, expect tepid reaction to the call today."
SiriusBuzz Bullet Point sent at 12:22 PM – "SiriusXM is trading at high volume.  While $3.00 will not be in the immediate future, a close above $2.85 bodes well from a technical standpoint.  The company is behaving in a very bullish fashion and establish stronger support levels at higher price points.  This bodes well.  I do not look for the equity to score a massive challenge to $2.95 today, but I do not see it going into danger zones anymore either.  Stay tuned.  My normal charts will be back this evening.  Thank you all for you patience during what has been a difficult time with Superstorm sandy.  Things are not quite back to normal yet, but are getting there."
In a SiriusBuzz Premium article titled "SiriusXM Technicals Bullish But Caution is Warranted" I noted the following after seeing the action on the day of the Q3 call:
 "If I had to guess I would say that SiriusXM will spend tomorrows session knocking on the door of $2.80 a couple of times before deciding whether to retreat to the $2.70 or run to $2.90 over the next couple of sessions.  Perhaps the best thing we have is the weekend coming"
November 5, 2012
SiriusBuzz Premium Bullet Point sent at 1:08 PM –"SiriusXM is drifting lower on low volume.  The positive take is that the volume is low, so there is no strength in the move.  The negative take is that it will be impacting the technicals.    A close of $2.82 or less will bring in two caution flags.  It looks like we are setting up a new trading range between $2.75 and $2.90.  We will know more this afternoon."
In a SiriusBuzz Premium article titled "SiriusXM Technical Outlook"  I noted many technical indicators and wrote the following:
"What we want to watch for is the volume at $2.80 and $2.90.  Those are the limits of the new range.  If SIRI breaks $2.80, then a test to $2.75 is in the cards.  If It breaks $2.85, then a test of $2.90 is in the cards.  At this point I would bet that $2.75 hits before $2.95.  Watch volume at these levels (intraday) closely!"

and

"Please note the chart.  There are changes, and the moving averages are very tight.  I have shifted the near term target to $2.95.  The risk below is at the 50 day moving average and support at about $2.66.  Looking at the near term the upside potential  is about 12 cents, while the downside risk is 17 cents.  An active trader would find this proposition to be attractive.  If I was an active trader in the equity I am a seller of above core shares in the morning.  My strategy would be to assess the action if the equity dips into $2.70?s and what volume that is happening on.  Even if the equity were to test $2.90 after my over-core sale, I would maintain that stance unless volume at $2.90 is over 75 million shares."

and

"The EMA chart still remains bullish, but one caution flag is up, and a second and perhaps third are not far behind.  The equity has been coiling and then bouncing up lately, but it lacks authority in any upward move.  Caution is the word of the day.  While I am not ready to call $2.66 just yet, it is very much on my radar screen.  Notice how tight the 5, 13, and 20 day averages are."

and

"I am short term bearish on this equity and long term bullish.  I see an opportunity here for selling an over-core position that is better than any we have seen in a couple of weeks.  Stay tuned, and stay on top of it."
 November 6, 2012
In a SiriusBuzz Premium article titled "SiriusXM Drifting – Which Direction" I noted the following
 "In recent days I noted that I would be a seller at these levels, understanding that I could be wrong, and waiting for a bottom to drift into play while watching the action and the volume to determine the re-entry point.  Yesterday we had one caution flag in play.  Today we have two.  These are the types of early signals that a savvy trader grabs ahold of.  Let me be clear.  I think SiriusXM's story in the mid to long term remains positive.  I simply feel that the equity wants to take a break in the short term.  For an active trader it could be a great opportunity.  You just need to be able to absorb the risk that the equity could simply stagnate or it could move up."

and

"What I see right now is an equity that wants to rest.  Resting could bring about a drift down (continuing the trend) to a point that approaches $2.70.  Essentially if I am playing this I am a seller at $2.85, a buyer at $2.75 (depending on what happens as it approaches that level), and a buyer at between $2.90 and $2.95 (depending again on the action)."

and

"I think that $2.75 or so is in the cards over the next several days.  It is an opportunity to trade an over-core position.  The risks I see are that this could just stagnate and I would eventually have to buy it back at current levels or slightly above.  $3 per share will happen, but not as soon as we had hoped without guidance or share buyback news.  Watch closely if you are trading….relax if you are long term holding." 
November 7, 2012
SiriusBuzz Premium Bullet Point issued at 8:45 AM -"While I try to stay away from the political stuff, the election last night very could well brew some uncertainty in the market in the near term.  SiriusXM and the markets seem to be dipping this morning.  SIRI is at $2.79 in pre market and it looks like the situation where we trigger a danger flag is arising.  Watch to see if $2.75 gets tested."
SiriusBuzz Premium Bullet Point sent at 11:14 –"Wow… what a morning.  I go into a meeting and come out to find that the caution flags that I said cause me worry are coming into play.  The technicals have broken, and unless this equity sees a recovery today, we are in a new downtrend.  Volume is high on this move, so it is quite real.  The 50 day EMA sits at $2.66, and that could well be tested.  The big question is whether we go below.  $2.60 is the next strong support.  If I was to make a call now it would be that the bottom will be $2.60 if we break below $2.67.  That gives us two bottoms to consider.  If you played this, congratulations!  Personally I would not worry about re-entry until the equity bottoms out and confirms that bottom with lower volume and an uptick.  Stay Tuned!"
The point of what is written above to to show readers what SiriusBuzz Premium has to offer.  We stay on top of things and put out regular updates that allow you to keep your finger on the pulse of this company.  SiriusBuzz Premium includes charts, analysis and timely information.  Even with me being stuck in the middle of Superstorm Sandy I found a way to keep the reader informed.  If you are serious about your SiriusXM investment and are finding that you are starved for good actionable information, you may want to consider giving SiriusBuzz Premium a try.  Simply click on the orange Premium tab above.  Now to where we are today.
SiriusXM broke some technical support levels that we have been watching and this action happened on volume.  It is too easy to blame the action on the election.  The fact is that the equity would not retrace so willingly unless it was something that was showing up anyway.  That is what the technicals have been showing.  We have been observing chicks in the armor.  Bear in mind it has not been enough to ruin the overall story of SiriusXM, but rather simply to conduct a healthy retrace.
We have now seen the caution two flags turn into three caution flags and a  warning flag on the short term chart.  By watching these technical indicators daily SiriusBuzz Premium members had insight prior to this move, as well as insight on how big this move might be.
Volume
Volume is a favorite indicator of mine.  It helps to determine the strength or weakness behind a move.  By watching volume daily and tracking behavior we can garner clues as to what the next steps in an equity might be, whether they are simple head fakes, or if there is a move with authority.  Today we saw a move with authority as the equity made a retracement to the 50 day moving average.  The question is whether or not that dip represented the bottom.  While we could venture a guess, my style is to wait for confirmation.  What I want to see is volume lighten up and see the equity close on an uptick.  Yes, I may give up a trade at the absolute bottom, but I find that getting confirmation is the safer play.  I am hesitant to call a bottom just yet…Even with the recovery off of the bounce.  Volume was pretty high on this move.

What we want to watch for tomorrow is how much volume we have and what is happening on that volume.  If the equity can hold above $2.70 or so on moderate volume, then we may be better able to determine a bottom.  If this equity reverses on heavy volume early, then this test to the 50 day was short (like I have been anticipating it would be).  Watch the volume early in the session to see the reaction and keep alert for Bullet Points.
Support and Resistance
Support and resistance will be better defined after this latest move.  Levels that represented weak and moderate support and resistance can now begin to solidify further.  A price of $3.00, which seemed quit possible in the week leading up to the Q3 call is now a target that is getting more distant, and less likely in the near term.  With the action today, there is now resistance ahead of $3.00.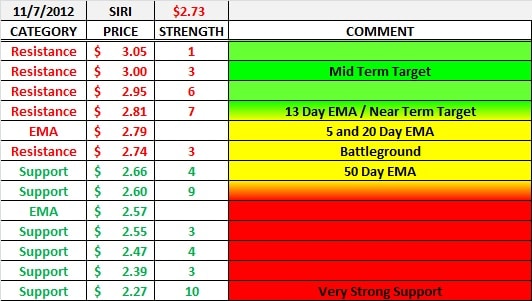 As you can see, there is now a lower battleground for SiriusXM.  The baseline is at $2.60 and the near term top line is at $2.80.  That represents the wider range.  The more narrow range is between $2.67 and $2.75.  What we want to see to the upside is the equity pass and hold $2.75 on volume of at least 70 million shares.  What we want to see if you are looking at the downside is how SIRI behaves at $2.70.  If $2,70 breaks on volume then it will certainly test $2.67 again and perhaps taken a stab down to $2.60.  The key is watching closely intraday.  For the moment we should have more focus on $2.60 than $2.80.  We can worry about $2.80 when this equity closes above $2.74 on volume.
Exponential Moving Averages – EMA's
This chart is the bread and butter of showing the potential moves.  Over the past couple of sessions it has been constricting and offering up caution flags.  These are the indicators that savvy traders look for.  With the action today we have officially moved from bullish across the board to bearish in the short term.  The key with EMA's is that each successive moving average wants to be higher than the next.  That is no longer the case with SIRI, although the averages are still pretty tight… actually… very tight.

We now have three caution flags, one danger flag, and almost a second danger flag.  As you can see, we are very close to the 5 day average falling below the 20 day average.  In fact, unless there is a dynamic swing to the upside tomorrow, we will see the second danger flag materialize.  So what does all of this mean?  It means that we are seeing a reset of sorts happen.  We hope that it is merely a healthy rertracement, but it bis too early to tell that just yet.  This is why you want to follow this daily if possible.  To reverse the danger flags it would take a close of $2.84 tomorrow, while adding another danger flag is a virtual certainty.  Do you see the short term bearish signals?  If the 13 day average breaks, and we see three danger flags, we are looking at a longer term bearish signal.  Watch closely.
Summary
Yes this was a long and drawn out article.  I wanted to give the regular readers some good intelligence, demonstrate the benefits of premium membership, and get this data out there for many people to consider.  If you are a premium member, thank you for your patience.  If you are a regular reader, than you for your readership.  If you are considering joining simply click on the orange tab at the top of the screen.  Simply stated I am bearish in the near term.  I see challenges in getting above $2.80 right now and an easier path to $2.60 than to $2.90.  An active trader may want to take advantage of these types of situations.  A buy and holder can still sit back.  There is no panic button unless we break $2.55 on the downside.  Remember, there is a gap at $2.58.  Happy Trading!