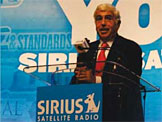 In a bit of good news today, Sirius XM radio has adjusted their guidance on their EBITDA loss from ($300,000,000) to an EBITDA lost of ($200,000,000). This is $100,000,000 better than first outlined by the company, and would seem to indicate that merger synergies, and cost controls are having a positive impact. An adjustment such as this is substantial, particularly during these economic times.
One substantial move that until now has not really been quantified is the savings generated by the changes in the channel lineup. The company estimates that they will save $35,000,000 annually, and while passionate fans of each service have been vocal, there were less than 10,000 cancellations due to the channel line-up shift.
Sirius XM noted that prior to the changes, the company had total production of 130 music channels. The channel changes brought that number down to 67 channels. As things stand now, SIRIUS and XM both feature 69 commercial-free music channels, 63 of which are shared.
For 2009 the company expects $425,000,000 in merger synergies. For the first time, the street can now get a sense of where the company is seeing cost savings. This should help analysts build better models for 2009 and forward. Synergies will be derived from ares such as:
Satellite & Transmission: $20 mm
Programming: $60 mm
Customer Service & Billing: $20 mm
SAC: $50 mm
Sales & Marketing: $150 mm
General & Administrative: $50 mm
Research & Development: $25 mm
Revenue Synergies: $40 mm
Capital Expenditures: $10 mm
These positive pieces of news still do not solve the 2009 debt issue. The company states that they are working with JP Morgan and Evercore in three key areas including operational improvements, existing debt holder discussions, and new investor discussions. The company has a goal of completing all by March 1, 2009.
Position – Long Sirius XM