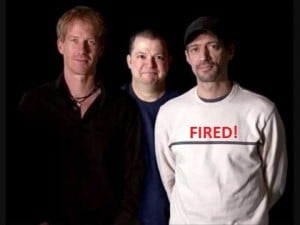 Today marks the first day that the Opie and Anthony Show has aired a live show since the firing of Anthony Cumia.  This weekend I noticed that the channel art on my iPod registered the channel as "SiriusXM TALK" instead of the Opie and Anthony Channel.  That switch has not made it to the SiriusXM website as yet.  What I noticed this morning is that the show was titled "Opie With Jim Norton".
Though I only got to listen to the early part of the show this morning, there is certainly a bit of sadness in the air.  Opie and Jim were the subject of the rantings of many fans that besiege the duo to leave the air and Join Anthony in the podcast realm.  While that is certainly an option, it would not come without repercussions.  Both Opie and Jim are UNDER CONTRACT until October.  This essentially means that they could not simply walk away without harsh financial consequences.
Further, I HIGHLY DOUBT that Anthony would want the pair to do such a thing.  I know that fans are still hurt by the forced break-up, but in the end we all just have to let things play out.  Yes, some have cancelled their subscriptions in disgust, but fans should know that this transitional period will at some point get resolved in one way or another.
Opie stated that he had not really communicated with Anthony about the podcast since the firing, but does wish him well.  It is clear that the words uttered by Opie and Jim Norton are measured and that perhaps some discussion is simply off of the table at this stage.  Clearly the show is being listened to by the top brass at SiriusXM, and the last thing these guys need is to bring more heat upon themselves.
I suspect that Opie and Jim Norton need to avoid the creation of a new show away from SiriusXM at this stage.  Opie did indicate that he felt that the door for a possible return of Anthony may be slightly open.  That may be wishful thinking.  Knowing Anthony, and knowing the shows stance on meaningless apologies, I think that heels are now dug in and with each passing day the door closes even more.
Fans certainly have opinions on the matter, and it will take some time to see what overall fan reaction is to life on channel 103 without Anthony.  Certainly there was a void this morning.  O & A were together for 20 years.  Jim has been associated with the show for years now.  The show contract finishes in October and it will be quite interesting to see if Opie and Jim continue on.  In the meantime, give it a few weeks to let the sting subside.  The show will not be the same, but it will still be some of the most compelling content on SiriusXM.  Stay Tuned!