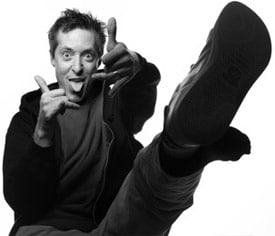 Longtime Howard Stern channel sports host Scott Ferrall will be leaving satellite radio and headed to a Terrestrial radio deal with CBS Radio.  The new show, Ferrall On The Bench will be available on over 50 affiliate stations and will air from 10 PM to 2 AM beginning January 2, 2013.  Ferrall has been with SiriusXM since Howard Stern made the move to satellite radio.
While many will blame SiriusXM for having lost yet another show to terrestrial radio, the responsibility likely rests squarely on the shoulders of Howard Stern himself.  The King of all Media has a lot of influence on the content that airs on his channels, and while there is indeed a budget to work within, it appears that over the past couple of years Howard and SiriusXM have been more at odds.
If Howard really wanted to keep Ferrall around he would still be here.  It seems that any time a talent wants to seek what they feel is their market value , the big head does not step up to the plate, but instead lets the talent fade away.  The losers of course are the consumers.
Scott Ferrall fans can still catch the sports shock jock via TuneIn Radio, which airs tons of audio entertainment content over the Internet and through smartphones.