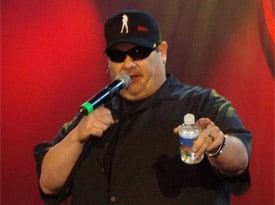 Howard Stern called into the Bubba The Love Sponge show live to today to officially announce that Bubba will in fact be on board for 2 more years right along with him. Howard went on to say that he was "disturbed" that they had to go through so much stress and that he is excited that they will now be in it together through the final years of his contract.
Still no official word from Sirius XM but, it is nice to know that this will be a multi year deal and that both Bubba and his fans have one less thing to worry about moving forward.
UPDATE: Sirius XM finally put out an official press release but there were no additional details in the wordy document that you readers haven't already learned here.
Brent Hatley, the SirusBuzz mark and Executive Producer of the "Bubba the Love Sponge" show had this to say:
"Tyler, Charles, and the boys at SiriusBuzz, we are so glad to continue on Howard 101. Now we have a two year extention and nothing to worry about other than doing a great show everyday, that is more than enough to think about. We have to thank the Bubba Army, I'm sure you have heard from them too as you have covered Sirius with passion and concern for the product. Again, Howard believed in us, we are proud to be associated with him, his entire show, and staff."
If you havent had a chance to catch the show today, there is an overwhelming continuing theme that the Bubba Army is to be thanked for helping to get this deal done.