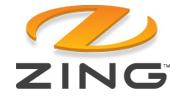 Today it was announced that Dell Computers will buy Zing in a deal in which details were not disclosed. Zing is well known in SDARS circles because it is the platform used by the Sirius Stiletto.
One of the many features Zing is the social networking aspect of the software as well as WiFi capabilities. Zing has also closed deals to have their technology incorporated into offerings from other companies such as SanDisk.
At one point Dell had made an attempt to enter the satellite radio world by partnering up with XM Satellite Radio with a Plug and Play device called the Dell DJ. The device never came to fruition.
Now, with their purchase of Zing, Dell now finds itself involved in satellite radio again, this time with Sirius. For investors, it is possible that this move could offer a new derivative play in the satellite radio market with an investment in Dell. Many investors have endured frustrating times in the pure satellite radio sector, but have found some success with investments in companies that do business with Sirius and XM. ST Microelectronics, RF Monolithics, and Directed Electronics have been popular ways to stay involved in satellite radio while having the security of the fact that these companies also do a lot of business that is not dependent on Sirius and XM.
While Sirius has announced that the Stiletto 2 will be hitting shelves later this year, they have made no mention of the platform that the device would be based on. One would imagine that there would be no reason to step away from the Zing platform, and in fact, there are capabilities in the platform that the current Stiletto has not taken advantage of.
Stay Tuned
Position - Long Sirius, Long XM, Long RF Monolithics, No Position Dell, SanDisk, ST Micro or Directed