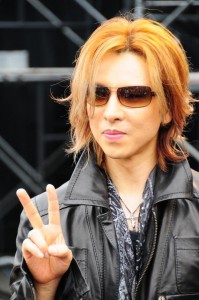 Sirius XM is taking music discovery and unique content to new levels with the anticipated launch of Yoshiki Radio, set to debut on may 27, 2011. Yoshiki, co-founder of the Japanese power metal band X Japan, will host a monthly one hour show on Sirius XM's Boneyard channel 38 and will feature his favorite music, as well as his thoughts on Japanese culture from sushi, anime, Hello Kitty and Wii.
"I'd like to help tear down the wall between East and West," Yoshiki says. "I want to show people that there is no one language, no real boundaries when it comes to music and art and that we are all more alike than not."
The arrival of Yoshika on Sirius XM is beneficial for both Yoshiki and the satellite radio provider. Yoshiki's X Japan will launch an English language album later this year, and Sirius XM's subscribers get exposure to great new music they may have otherwise not heard.
"We love introducing listeners to bands they may not otherwise hear on other audio platforms," says Scott Greenstein, SiriusXM's president and chief content officer. "Yoshiki Radiowill feature his pioneering choices of songs that mix musical worlds."
The launch of Yoshiki Radio will occur at 8 p.m. ET on May 27, and subsequent to the launch can be heard the first Sunday of every month at 9 p.m. ET on Sirius XM's Boneyard channel 38.
Position - Long Sirius XM Radio