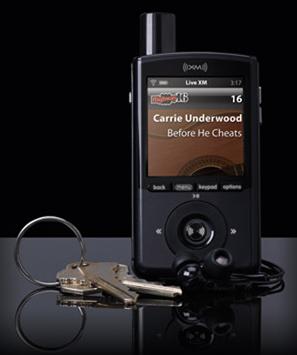 Sirius XM Radio's XMP3 radio is the latest in wearable devices for satellite radio. Featuring a small compact size, and an easy to use interface, the XMP3 brings music to your ears. At only 2 inches x 3.6 inches by .6 inches, and weighing in at only 3.1 ounces, the XMP3 will fit where you want it while delivering all of the content satellite radio has to offer.
The XMP3 arrived from TSS-Radio, and the only disappointment I have experienced so far is the knowledge that I will only have this hot little unit in my hands for a short period of time.
Upon arrival, I wanted to try the device out quickly. Fully charged and ready to go, I turned on the XMP3 and jumped right in. A good electronics device is intuitive enough that the end user does not have to go crazy trying to figure out how to use it. The XMP3's simplicity of operation makes it a winner right off the bat. The unit features an easy to use navigation wheel that will be familiar to iPod and Stiletto users. A row of four buttons under the screen get you to any function you need, and the scroll wheel lets you navigate all pop-up and drop-down menus with ease.
Sirius XM Radio made several improvements over previous devices that go beyond size. A better color screen with higher resolution are obvious upgrades, but it is perhaps the recording capabilities that make this device stand apart from a simple MP3 Player. The XMP3 allows live recording of up to five channels at the same time. This means that you can grab content from many sources, and play it back latter. Want to record a specific show? No problem. The XMP3 lets you schedule recordings. In fact, this little device will let you grab up to 75 hours worth of shows! Want an added bonus? The XMP3 automatically records your favorite shows. Hear a song while listening live that you want? Press one button, and it becomes the latest addition to your music library. You can store up to 10 hours of individual songs. Want to import songs from your existing library? The XMP3 features a micro-SD slot. The XMP3 also has a nifty live programming feature that shows you what will be happening on XM for the next two weeks. You can choose to record any show right from this menu.
For investors, the XMP3 allows delayed stock quotes. While the quotes are delayed, it does allow you to know where your stocks are at any given time. For sports fans, you can get score updates right on the screen while you listen to other shows.
Having tried virtually every satellite radio that has come out, I can say that the XMP3 is the best satellite radio device that has ever been offered. The new smaller size combined with greater functionality give satellite radio fans a chance at the ultimate in a satellite radio receiver. TSS-Radio has the XMP3 available at TSS-Radio for $239.99 after a $30 mail in rebate. Whether you are an XM subscriber or a Sirius subscriber, this device is sure to satisfy. The BEST OF programming, which is now available, and the new channel line-ups make this device far more of an asset to audiophiles than a standard receiver. Simply stated, the XMP3 allows you to get the most out of your satellite radio experience, and set yourself apart from the iPod crowd.
Key Features:
XM2go® Music Manager feature schedules recordings up to 75 hours
Over 170 channels of music, sports, news, talk, entertainment and exclusive content
Record XM programming 3 ways: automatic, scheduled, 1-touch–record up to 5 channels at once
Listen to a personal music collection (MP3/WMA files) with microSD™ card slot
Compatible with standard or high capacity microSD™ cards
Set up to 99 favorite channels and record up to 100 hours of XM
TuneSelect feature alerts users when certain songs are on-air
XM programming guide features alerts when 'the best' is playing or schedule to record it
Pause, rewind and replay up to 30 minutes of live XM
Create and modify playlists of personal MP3 collection or XM recordings
Bookmark and purchase songs from compatible online music services including Napster
Purchase and listen to audio books from Audible.com
GameSelect feature alerts users when certain sports events or teams are on-air
Info extras feature keeps track of selected sports scores and stocks
Includes:
Rechargeable Battery
Earbud Headphones
Remote Control
Home Dock
AC Adapter
USB Cable
RCA Cable
Position: Long SIRI.