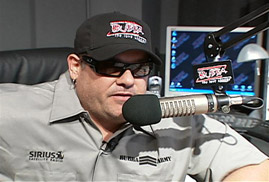 Those that are new to satellite radio may not be aware of this, but Bubba The Love Sponge used to be on XM. That's right. Early on XM broadcast several shows from terrestrial radio giant Clear channel, and Bubba The Love Sponge was one of those shows. When Bubba got canned from Clear Channel, he lost his presence on XM.
With the arrival of BEST OF, long time XM subscribers have now been reunited with the Bubba the Love Sponge Show. I spoke with Bubba's executive Producer, Brent Hatley today, and he said that they are getting a large influx of calls from XM subscribers. It seems that there is a reunion of sorts happening on satellite radio, and the early adopters have found a long lost show that they can once again listen to.
While numbers on the adoption rate of the BEST OF have not been made available, there are clues that the service is being adopted, and news such as what we are seeing on the Bubba The Love Sponge illustrate that there is indeed additional revenue coming through the doors with this programming option.
For Bubba, the news of Best of gives him a chance to reconnect with fans from yesteryear, and may even give some new spice and characters to the show for all to enjoy.
You can listen to The Bubba The Love Sponge Show on Howard 101 Monday-Thursday @ 3-7PM EST and Fridays @ 10AM-2PM.  For a glimpse into Bubba's world be sure to check out BTLS.com
Position - Long SIRI