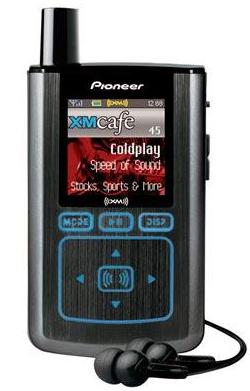 XM satellite Radio announced today that they have settled with one of the recording labels on their lawsuit surrounding XM's portable Inno device. The suit, which came as a result of some recording features on the Inno has been ongoing for quite some time. While the news of a settlement with UMG is positive, there are still other recording industry parties that have not yet reached an agreement with XM.
Universal Chairman and CEO Doug Morris stated, "We are pleased to have resolved this situation in an amicable manner" adding, "We pride ourselves on empowering new technology and expanding consumer choice. And XM is providing a new and exciting opportunity for music lovers around the world to discover and enjoy our content, while at the same time recognizing the intrinsic value of music to their business and the need to respect the rights of content owners."
Nate Davis, XM's President and CEO applauded the settlement saying, "Our agreement is a win for everyone involved, especially for consumers", and "Today's announcement underscores the fact that XM competes in an audio entertainment market in which consumers have more options than ever. We commend UMG for being the first music company to take this step forward with us and look forward to continuing our discussions with our other partners in the music industry."
The lawsuit over the Inno has been a damper on XM's stock for quite some time, and even hampered XM's ability to launch newer recordable devices as capable as the Inno. Terms of the settlement have not been disclosed, so it is unclear whether the Inno device will still be capable of doing all of the features that brought the suit.
Likely, with Universal stepping up to the plate, other record labels will follow suit. Sirius, for their part, has agreements with the record labels.
Position – Long Sirius, XM