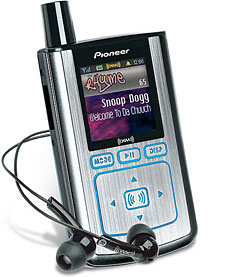 XM satellite Radio announced today that they have settled a lawsuit with Sony BMG over their Inno and Helix portable receivers. This represents the third music industry group to settle with XM in a lawsuit that is two years old. Previously XM has settled with UMG and Warner. While the overall suit is not yet fully settled (some music labels still need to come to terms), the largest players are out of the way.
Terms of any of the settlements have not been disclosed. The UMG and Warner agreements transpired in Q4 of 2007. Sony BMG is the first news on the suit in 2008. Settlement terms likely include "bounties" on each unit sold, but no word has been given on whether capabilities in existing or future devices will be modified.
In my opinion the reason we have not seen a new portable from XM is this litigation. Some detail on what the settlements entail may be offered in the quarterly report of XM which is anticipated to be released this month. The Suit was massive in scale with the RIAA seeking what amounted to billions of dollars. XM was staunch in their position that their devices were legal. Obviously the parties met somewhere in the middle, but likely much closer to XM side than the billions the RIAA was seeking.
The news is positive in that the issue is now off of the table. The only unknown is what costs the settlement incurred.
Position - Long XM