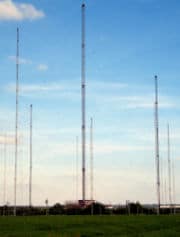 In a press release this morning,  the companies expect to agree, among other things, to :
-- adopt comprehensive compliance plans, and take steps to address any potentially non-compliant radios remaining in the hands of consumers. This could be a positive for me and a couple of my old radios which may be getting an upgrade!
-- Xm will have 60 days to shut down 50 repeaters and shut down or bring into compliance an additional 50 and Sirius must bring into compliance or shut down up to 11 variant terrestrial repeaters that were already shut down in 2006 by Sirius.
Sirius and Xm will also be required to make a voluntary contribution to the United States Treasury of approximately $17 million in the case of XM, and approximately $2 million in the case of SIRIUS. (You gotta LOVE those voluntary requirements!)
This resolution is widely believed to be the final hurdle before the FCC grants the license transfer application of Sirius and Xm.
Full press release