SiriusXM continued its consolidation on Friday as options expired.  The options market did not take the equity down to $3.50.  The good news remains the development of some stronger support at $3.42 is still happening.  I look for development of stronger support at $3.50 as well now.
In my opinion Sirius XM will be announcing record revenue, record free cash flow, record EBITDA growth, record gross additions, record installations.  The quarter is going to be very positive.  The metrics that could see some minor negatives are ARPU and churn, though I expect them to be decent.
SiriusXM is setting up for a few things that will move the stock in the coming weeks.  A strong quarter, continued share buybacks, and analyst upgrades are all on the menu.  I have outlined that current valuation is already reasonable if you consider that EBITDA can grow 20% in 2014.  I feel that the company can achieve this.  From a technical standpoint this equity can see a pop to $4.25, but it would need to grow into that type of price.  I look for the equity to challenge new highs, settle down and rest, and set up the next challenge.
The volume is still slightly below average and in a great area for consolidation and building support levels while contracting the gaps between EMA's slightly.  We have very little resistance above, but it is also uncharted waters.  The hurdle at $3.75 is a psychological hurdle more than anything.  The real challenge will come at $4.  That may take a few attempts before that wall is broken down.
The EMA's have one caution flag.  I do not find that worrisome.  What I want to see is the 50 day average get toward $3.50.  It is doing that a penny at a time.  Watch the volume as this week moves on.  It will give you an idea of the strength behind the moves.
Volume 

Support and Resistance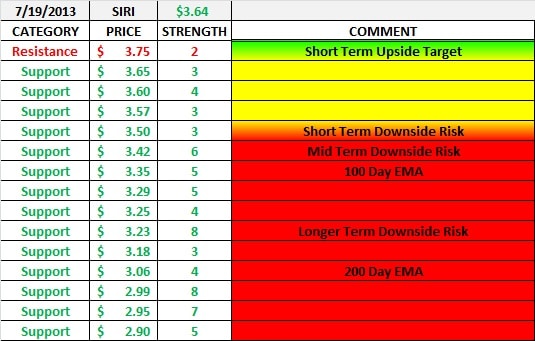 Exponential Moving Averages