All of the indications are there for this equity to make a bullish move.  However, we are also at a critical point in seeing a stall as well.  SiriusXM has flirted with getting above the 100 day and 200 day EMA for quite a few times now.  We have seen it crest above both and then pull back time and time again.  We are now at about a week over the 100 day EMA, and on the cusp of taking out the 200 day EMA.  This is what it will take to see this equity run and test the $3.60's.
The best piece of news we saw this week was Friday when the equity held the $3.40's on big volume.  Essentially we are establishing a new foundation in the $3.40'sd instead of in the $3.30's.  Over the last month we have seen a slow progression of about a week in each range of the teens, the twenties, the thirties, and now the forties.  It is time to make the move up.  The question is now whether or not the street is ready.
We have strong support below at $3.42, $3.37, and $3.24.  Resistance above is a psychological $3.50 and then $3.61.  What we want to see is this equity stay above the 200 day EMA at $3.40 for another three days minimum and begin to drag the 100 day EMA upward for a crossover.  When the 100 day can cross above the 200 day EMA it should be a bullish signal.  We may get into that area prior to the conference call.  If the call can squash doubts, this equity can run.  If the call is mediocre, this equity may settle back down again.
Volume

Support and Resistance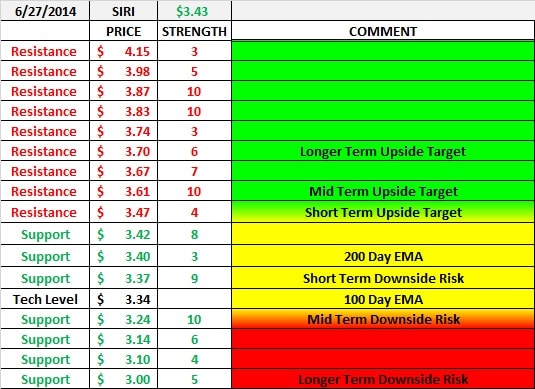 Exponential Moving Averages