If I had to place a bet on the question in the title, I would say that it will dip.  The volume was simply too high on this move to ignore.  At 95 million shares, this equity dipped with authority and strength.  There is nothing very compelling on the horizon to change the current downward trend.  As sad as this sounds, we may well see the low $3.30's in the near future.  Ironically, it was only a week ago that I considered pulling the $3.25 support level off of my chart.
Support below is pretty weak.  Should the macro-economic situation look bad, SiriusXM will indeed suffer.  If $3.40 breaks on volume, we could dip as low as $3.25.  It is only psychological support at $3.30.  SiriusXM bounced off of about $3.34 recently.
The EMA's are ugly.  There is no other way to put it.  We need to see this equity bottom out on low volume.  While a caution flag or two can easily be removed, we are almost 30 cents below removing all four.  Strategy here is play the sidelines until we see a bottom form on both the volume, the support and resistance, and the EMA's.
Volume

Support and Resistance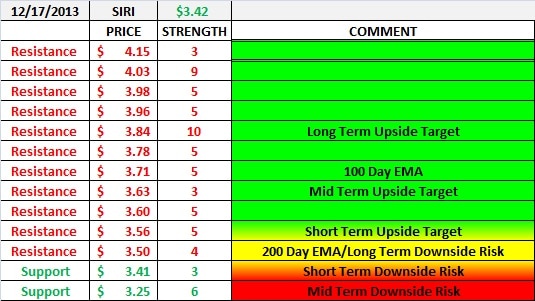 Exponential Moving Averages