Whether or not SiriusXM will break higher is likely a question most of you readers are wondering right now.  My short answer is that there is potential to continue moving up, but consolidation could also be in order.  We saw a big move up on high volume, but it was not monster volume.
SiriusXM has done some housecleaning on the support and resistance and it is positive.  Essentially the downside risk levels have all moved up a notch.  Good News.  A new support level sits at $3.49.  Good News.  The area above is essentially uncharted waters.  Great potential.
The key here is compelling volume.  I actually think that it is important for this equity to at least test a new 52 week high on this run and then consolidate and stay above $3.50.  What is good technically is to allow the EMA's to shift up a few notches.  It would be fortuitous if the 50 day EMA can get above $3.40 for the next run and that the next run happen with stronger support at $3.50.
The reason we are seeing very weak support and resistance levels is because the equity has not spent enough time in this area.  Look for a small peak up and watch volume.  If volume dips to a pace of 50 million we will likely consolidate.  If Volume is higher than the run will continue.  If I were betting I would bet on consolidation after a small peak in the morning.
Volume

Support and Resistance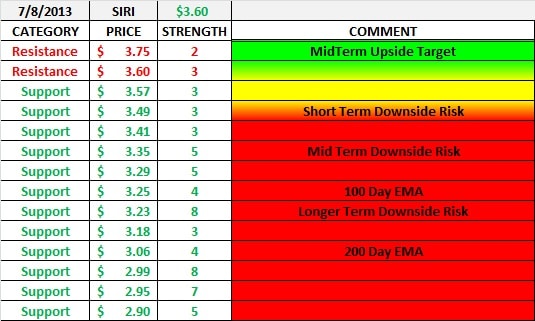 Exponential Moving Averages