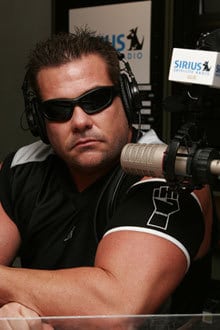 It seems like it was only a short time ago that Bubba The Love Sponge resigned with Sirius, but it was in fact in December of 2007, and was a one year term. This means that Bubba's current deal, which also allows him to have a show on terrestrial radio is set to expire in just under two months.
In the past, contract time for Bubba has meant listeners had to endure rants and raves from him on how he is not getting respect, or not getting enough money. It was that type of ranting that led me to tune Bubba out last year. Core Bubba fans go along with the rants of Bubba, but to casual listeners, it had a turn-off and tune out effect. I had many readers indicate that they were just tired of listening to Bubba complain, and it seemed that Sirius was not thrilled with Bubba's tactics either.
As contract time rolls around, it will be interesting to see exactly what Bubba does. We don't want to hear about "iPod Willey", or complaints about how much Mad Dog Russo is being paid. We want to hear the Bubba show without all of the contract drama. Can Bubba keep it real? Can he separate the contract from the show? That will be interesting to see.
Bubba does have a core group of fans that is passionate. What he needs is to grow his audience on a continual basis. The connection we saw with the Stern show early on seems to have faded. There is not as much talk on Stern about what is happening on Bubba. Personally, I think the happenings just before the last contract signing alienated Bubba in many ways. He alienated himself from Sirius, Stern, and his casual listeners. Yes, the core fans enjoyed the show and will say that Bubba simply speaks his mind. However, this is business, and sometimes in business speaking your mind on the air will not help your cause. Bubba needs to understand listener sentiment on the current economy, and know that hearing a millionaire complain about money will not resonate with listeners.
With the merger now complete, there are many things that can be considered. The number of Shock Jocks has doubled, and this gives Sirius XM options. I do not see Opie and Anthony on Stern channels, but could it be possible to see Ron and Fez? Or is it possible that someone else from terrestrial will make the move to satellite.
Now, I understand that what I am saying about Bubba may not be popular with the core fans, but it does need to be considered. The show can be funny and entertaining. However, once you lose a listener it is tough to get them back. Personally, I have listened to Bubba maybe 5 times in the past year. I switched to Jay Thomas on Sirius Stars 102. He is funny, topical, and handles contract time very casually. Thomas already appears on Stern's channel on Friday mornings already, and goes head to head with Bubba in the afternoon.
Would I like to see Bubba re-signed?
Sure, if the deal makes business sense to all parties.
Do I think signing him is imperative?
No, core fans will be angered, but in the end, the company needs to weigh the value of Bubba against what he brings to the company.
Do i think a deal will be reached?
Yes.
Will Bubba tow the line and not start weeks of complaining?
This task may be harder than the deal negotiations, but i certainly hope he can just leave the negotiations to the back room.
Position - Long SIRI