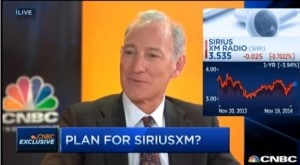 The question of what Liberty intends to do with its stake in SiriusXM is always not far from the surface of any discussion relative to the satellite radio provider.  With the recent moves and spin-off's that Liberty Media has made, the concept becomes even more interesting.  With the cable side of Liberty already spun off, the Liberty media entity that is involved with SiriusXM is "cleaner" than it ever has been.  These days Liberty media is a 56% stake in SiriusXM, a 27% stake in Live Nation, the Atlanta Braves, and several small stakes in other companies.  Meanwhile SiriusXM is comprised of itself and full ownership in Agero.
In many ways, a merger could make sense to many that have followed the sector for quite some time.  Outside of a merger, there is always the question of whether or not Liberty simply does another buyout offer.   The reality is that is is more likely a question of when a transaction happens than if it happens.  The structure of such a deal is what would likely be most interesting to SiriusXM investors.  Some long time investors are not a fan of Liberty taking over SiriusXM, but the reality is that this equity has a lid of sorts on it until some sort of move happens.  With Liberty owning 56% of the stock, this company is essentially controlled by Liberty already.
Yes, SiriusXM is generating massive free cash flow.  Yes, SiriusXM is in a great position in terms of its debt leverage.  Yes, SirisusXM is buying back shares in large numbers.  While this would seem to indicate that SiriusXM is deserving of being a stand-alone, we can not avoid the fact that Liberty has 56% of the stock, and that position will only grow with each share bought back.  At some stage Liberty could become a 60% owner simply by sitting back and waiting.
The next move that happens, in my opinion, will be timed to deliver the biggest bang for the buck.  This time I think that the board, the street, and investors will be more in tune with what happens.  The "romance" of seeing SIRI as an ongoing ticker symbol and stand-alone company is now gone.  Over the past year that reality has grown to be more and more accepted.  Investors are releasing the romance in exchange for something that simply makes the most financial sense.  It has been a long time coming, and while it will not be reality until a move is made, it has essentially become accepted.
It is no coincidence that Liberty's CEO, Greg Maffei, has floated out and discussed such possibilities in 2014.  The most recent discussion was on CNBC last week.  This type of discussion has come up a few times this year.  Often these things happen because the street expresses an interest in the concept, but likely, the concept is floated to test the waters.  In January of 2014 Liberty put an offer on the table to buy out SiriusXM.  The company ultimately withdrew the offer, but maintained that such a deal makes financial sense within a certain price range.  The first pass at a possible deal was met with some cynicism on the part of SiriusXM stake-holders.  Now, after a year of essentially flat equity performance despite massive share buybacks, SiriusXM stakeholders may be more willing to entertain a deal of this type.  Many SiriusXM investors expressed that they did not want to be rolled into a Liberty stock that was heavily into the cable sector.  Liberty removed that objection by spinning out the cable business.   There are possible synergies with Live nation, so that leaves the only real objectionable component as the Atlanta Braves.  Will investors balk at having a Major League Baseball team as a small component of a deal?  In my opinion the merger or takeover waters are much more clear now.  Stay Tuned!