Even though the Liberty Media deal is now off of the table, there are forces still at work dealing with the shift.  SiriusXM was down into the $3.20's today on big volume of over 135 million shares.  While some retail investors had no love for a deal with Liberty, the bigger players did seem to really want it.  Do not say I did not share that sentiment with you.  I did.  Essentially, this deal is off of the table, but the street knows that there will one day be a deal.  In the mean time, they will jockey positions.  One glimmer of hope is that SiriusXM is well oversold, and well below typical valuations.  You and I know this, but the street is still in adjustment mode.
Liberty dealings still have meaning to SiriusXM.  Yes, even though the SiriusXM is off of the table, many savvy investors that play satellite invest into Liberty.  With Liberty now getting ready to do some restructuring, the play over on that side of the yard is now getting interesting.  It could be worth a shift.  It certainly was with the Starz spin!  A purer Cable play at Liberty is now in the cards, with some added benefit of "bonus shares".
From a technical standpoint SiriusXM is UGLY.  We could have a decent opportunity here if you are savvy.  As stated earlier, the equity is oversold, and valuations are low.  They first key to identifying the bottom is with the volume.  We need to see volume on downward pressure dry up.  It is almost that simple.  The risk below is likely about $3.19, but that should not even last long.  In my opinion we are near the bottom.  We simply lack confirmation.
Volume

Support and Resistance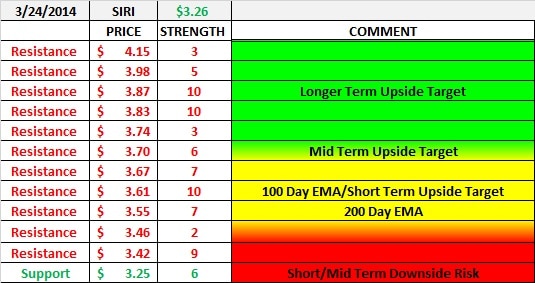 Exponential Moving Averages