When you are invested in the media sector it is always wise to keep tabs on the entire sector. Understanding the competitive landscape and what is trending well with various demographics is paramount. There are some simple ways to gauge such things that do not require a lot of time or effort.
One site that tracks web traffic is Alexa. Alexa does not use bots to scour the web, but instead a toolbar that is downloaded by users. Because of this, the company can see what websites real people are visiting. This "real" data is combined with other data to rank sites on the web and determine a ranking. Because of the way Alexa tracks, the better the ranking, the more reliable the data. Sites can not "hide" from an Alexa ranking.
In this exercise I stacked up Sirius XM Satellite Radio (and their Internet Radio service) against Pandora, Slacker, iHeartRadio, and soon to be available in the U.S. Spotify. One item of note is that much of Sirius XM's listening happens over the satellite feed and does not require a user to visit the company site. Thus web statistics for Sirius XM do not reflect the total popularity of it as a service vs. the others, but is an indication of how popular the Internet side of Sirius XM stacks up.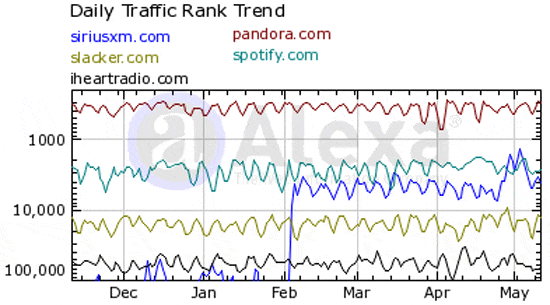 Essentially there are two key statistics to follow. Traffic and Reach. A site's ranking is based on a combined measure of Reach and Pageviews. Reach is determined by the number of unique Alexa users who visit a site on a given day. Pageviews are the total number of Alexa user URL requests for a site. However, multiple requests for the same URL on the same day by the same user are counted as a single Pageview. The site with the highest combination of users (Reach) and Pageviews is ranked #1. Additionally, Alexa employs data normalization to correct for biases that may occur in the data.
What we see when we look at Alexa traffic data for these competing companies is that Pandora rules the roost. The same holds true when you consider the more important category of reach. Simply stated, when it comes to Internet radio Pandora is the king of the hill, and the target that anyone broadcasting over the net (including Sirius XM) is aiming for.
Traffic and reach is all well and good, but we can take things even further with Alexa. We can see the type of audience these services attract, the average time spent on the website, and even the percentage of people who leave a site after a single pageview (bounce Rate). Pandora has the advantage in these categories as well, although Sirius XM enjoys a nearly identical low bounce rate as Pandora. Looking Deeper into each company we can learn a lot.
SIRIUS XM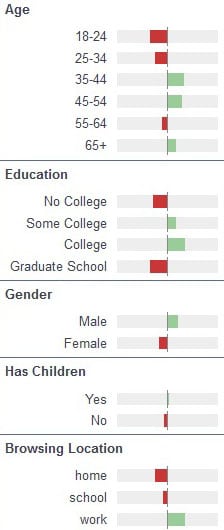 Sirius XM's traffic rank globally is 4,058. Their traffic rank in the United States is 644. The company has a higher than average audience in the 35 to 54 years old demographic, and a higher than average audience in the senior citizen category. Their stats for the 18 to 34 year old demographic are lower than normal. Their audience is higher than average among males, and lower than average among females. Sirius XM visitors tend to have some college or have completed college, and most visit the site from work.
Alexa states, "Siriusxm.com's three-month global Alexa traffic rank is 4,058. Search engines refer roughly 14% of visits to the site. About 40% of visits to the site are bounces (one pageview only). Compared with all internet users, the site appeals more to users who are higher-income; its audience also tends to consist of moderately educated African Americans and men browsing from work. The time spent in a typical visit to Siriusxm.com is approximately four minutes, with 57 seconds spent on each pageview."
Sirius XM can improve by appealing to a younger audience, and by becoming a more attractive option to a female audience.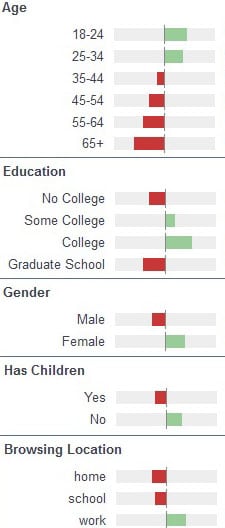 PANDORA
Pandora ranks 349th in the world and 61st in the United States. The company has higer than average participation in the 18 to 34 years old demographic, and has a higher than average participation by users who have at least some college or are college graduates. Pandora's audience is higher than average with women, and lower than average with men. Most users are utilizing the service from work.
Alexa states, "There are 348 sites with a better three-month global Alexa traffic rank than Pandora. It belongs to the "United States" category. About 36% of visits to it consist of only one pageview (i.e., are bounces). Pandora has been online for more than seventeen years. The site is particularly highly ranked in the cities of San Diego (#42) and Salt Lake City (#43)."
Pandora can improve by appealing to an older demographic as well as finding a way to appeal to more men. The company does very well in keeping people on their site. The average user stays there over 8 minutes, which is impressive when compared to the competitors. What is perhaps even more impressive is that the delta between Pandora and other in time spent on their site is substantial.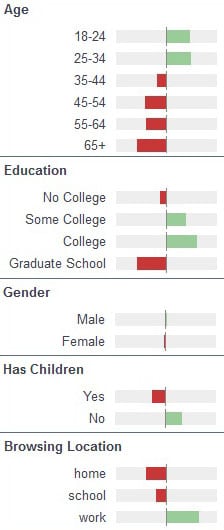 SLACKER
The world ranking for Slacker is 14,732, while their rank here in the United States is 2,726. The company mirrors Pandora in many ways in terms of audience with one distinct difference. Slacker carries about an equal appeal to mean and women. The company is not nearly as successful in keeping people engaged on their site. 85% of those that visit only view one page.
Alexa says, "There are 14,731 sites with a better three-month global Alexa traffic rank than Slacker.com, and visitors to it spend about 86 seconds on each pageview and a total of two minutes on the site during each visit. The site has attained a traffic rank of 2,726 among users in the US, where roughly 93% of its audience is located. Slacker.com has a bounce rate of about 85% (i.e., 85% of visits consist of only one pageview). It has been online since 1995."
Slacker, like Pandora can improve by generating more appeal to the older demographics. They may also want to consider dressing up their web experience so that people engage the site more. This would help with their bounce rate.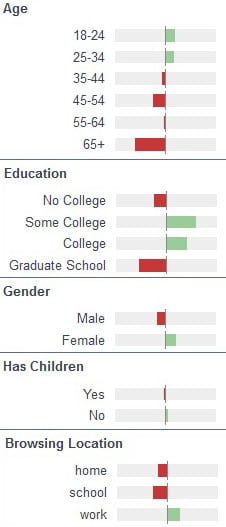 IHEARTRADIO
Clear Channel's iHeartRadio is an up-and-coming Internet radio business. It is a hybrid combination of terrestrial radio and the ability to stream terrestrial stations over the internet in one place. The company has recently made some interesting moves including the purchase of Thumplay to give them the ability to offer "Pandora-Like" capabilities. The demographics of iHeartRadio are similar to Pandora, but as yet the service is not near as popular.
Alexa states, "Iheartradio.com is ranked #49,735 in the world according to the three-month Alexa traffic rankings. Roughly 79% of the site's visitors are in the US, where it has attained a traffic rank of 10,910. The fraction of visits to the site referred by search engines is about 8%. iHeartRadio.com is relatively popular among users in the cities of Birmingham (where it is ranked #1,392), Cleveland (#2,072), and Washington (DC) (#10,034). Roughly 61% of visits to this site consist of only one pageview (i.e., are bounces).
Look for iHeart Radio to make some Sirius moves on the net this year. They recently got themselves included in Toyota's EnTune, and have the ability to market their Internet feed to consumers on terrestrial stations. Like other pure Internet radio providers iHeartRadio can improve greatly by appealing to an older demographic.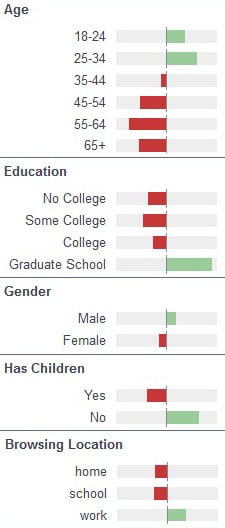 SPOTIFY
Although not yet available in the United States, Spotify is anticipating a launch here soon. Already popular in Europe, Spotify ranks 2.454th in the world, and 167th in Spain. When the company launches in the States, it will give Spotify a distinct global reach that some U.S. based services do not have. Spotify differs from other Internet radio services in that it seems to appeal more to men than women.
Alexa states, "There are 2,453 sites with a better three-month global Alexa traffic rank than Spotify. The site has a bounce rate of approximately 60% (i.e., 60% of visits consist of only one pageview). The site's visitors view 2.4 unique pages each day on average. Search engines refer roughly 13% of visits to Spotify.com. Compared with the overall internet population, the site's audience tends to be Hispanic; it also appeals more to childless men under the age of 35 who have postgraduate educations and browse from work."
Spotify could improve by creating better appeal to women and an older audience. When they launch in the United States it will be very interesting to see how the Internet radio dynamic here changes. Want to learn more about Spotify? Check out The Pansentient League, a blog that covers the company extensively.
The bottom line is that there is room for each of these companies to improve in certain areas. Some like Sirius XM and Pandora have become quite adept at getting consumers to stay on their site, while others carry potential to improve on that side of their business.
Sirius XM is a hybrid between satellite and Internet delivery. Clear Channel's iHeartRadio is a hybrid between terrestrial radio and Internet delivery. These companies have a distinct advantage in that they can market the Internet side of their business to existing listeners on their main method of delivery. Clear Channel and Sirius XM also have the advantage of being widely available in cars. While smart phone adoption allows all of these services to be streamed through the dashboard, it is only possible with newer cars, another distinct advantage to Sirius XM and Clear Channel.
Investors in the media sector should take a few minutes to explore Alexa.
Position - Long Sirius XM Radio