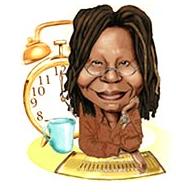 People will no longer get Whoppie in the morning in New York. No, not that king of Whoppie....as thrilling as starting off the day that way can be, we are talking about Whoopie Goldberg's radio show.
Whoppie's flagship station, WKTU in New York (A Clear Channel station) is dropping Whoppie and her "Wake Up With Whoopie" morning show. Does this pave the way for Whoopie to make her way to satellite radio? Likely not as the other nine affiliates will still carry the show. However, losing the slot at your flagship station does not necessarily bode well for the radio career of Whoppie Goldberg, and even if she was free, the likelihood of her finding her way to a major satellite contract are pretty slim.
The shake-up of morning radio shows and even radio station formats has been incredible since the departure of Howard Stern from terrestrial radio airwaves. This is partly driven by the talent pool, but at the end of the day it boils down to advertising dollars. For many stations it is not as much about putting on what people like, but having a talent that will bring advertising dollars into the door.
Whoppie, aside from her radio show appears on the television show "The View"