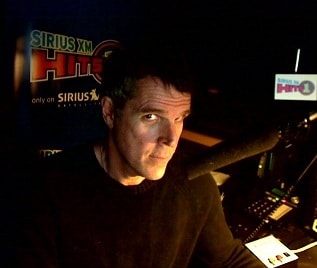 If you listen to Sirius Hits One or XM's 20 on 20 on weekends, you are likely familiar with the booming voice of Spyder Harrison. Spyder does the weekly countdown that gets several hours of airplay every weekend. In addition to the countdown, he is also featured on Sirius XM's 70's channel as "JJ Walker", a persona developed in the 80's while Harrison was a DJ in Detroit. If you listen carefully to other things in your daily life, you will certainly hear Spyder Harrison's voice again and again. Last night, while watching the History Channel I heard his familiar voice on a television spot for Pride Motors, a local car dealership.
The fact of the matter is that Spyder Harrison is a shining example of crossover talent, and he represents the future of media content. Along with Sirius XM, Spyder can be found nightly on CBS Orlando's WOCL-FM, and as "JJ Walker" on CBS Detroit's Greatest Hits 104.3 WOMC (bringing back his DJ persona of the 80's). In addition he has been a prolific voice-over personality hired for the quality tones his vocal chords produce and his ability to bring out emotion when he speaks.
Essentially Spyder Harrison is not the property of Sirius XM, but rather a talented "free agent" who's skills and passion for what he does developed into quite a career. Believe it or not, Spyder runs all of his shows and all of his voice-over work from a studio at his home in Miami Florida. While the money in being a DJ isn't what it was 10 or 15 years ago, there is something to be said for the ability to work out of your own home, and Spyder certainly appreciates that.
I had a chance to catch up with Spyder, and let me assure you that he is indeed the person and personality we hear on the radio. Spyder is a person who truly enjoys what he does, has never the type to "mail it in". Spyder's passion started when he was just 15 years old and has never let up. He did not want to be a DJ because of fame. He simply thought it would be cool to do something that he enjoyed.
It takes more than a good voice to succeed in this business. The DJ graveyard is littered with people who possessed a good voice, but lacked the ability, personality or charisma to parlay that voice into a career. Spyder says the key to success is "sounding and being real....if you are a phony, people will see right through it." Spyder is humble in what he does and often seems to check his ego at the door. Listeners can often hear him poke fun at himself with the 3 thousand twitter followers he has compared to the 3 million that follow Ryan Seacrest. He is not jealous or envious, he is simply a well grounded person who enjoys his trade. In our conversation he paid homage to Casey Kasem, Ryan Seacrest, and of course Rick Dees, and recognizes the contribution they have made. However, Spyder differentiates himself from the others by taking pride in being a sort of "Anti-Countdown". He states that he is not Mr. Awesome, nor flawless, but does a show that sets itself apart because it is real. Listeners appreciate that they get a genuine show. I have myself sometime heard a Spyder comment that made me wonder where this guy is coming from, but it is in those moments that you realize that you are a part of his show rather than just listening to it.
Spyder is simply a down to earth person that enjoys his work. This, even more than his voice, is the reason that he has enjoyed a successful and lengthy radio career. In the world of Spyder Harrison it is not how many people love him that matters. It is how many people love the shows. He does not seek a pat on the back, nor does he need it to maintain his good humored nature. He is practical, grounded, and genuine. In his 11 x 8 studio he listens to Sirius XM in on a boombox with a Sportster, and has a stratus in his car. Why would Spyder have a Stratus and not a sexier radio like a Stiletto? This is where his practicality shines through. "It is a leased car. Why pay for a radio that I will have to return with the car? It's bad enough I paid for leather seats that I don't get to keep!", Spyder says. He can get his favorite channels on a Stratus, and take it with him when the lease is up.
Spyder's work with Sirius XM is not as simple as some may think. Yes, having a home studio is a huge advantage, but a three hour countdown show can take up to 6 hours to record and produce. In a countdown there may be only 45 minutes of actual Spyder dialogue. Harrison states, "It has to be right. I am not on a clock. I do the show until it is right. Good radio does not happen in a set amount of time." Spyder's work includes hours of research into the various artists that appear on the ever evolving countdown, as well as developing bits that keep listeners smiling as they enjoy the weekend show. The show requires a lot of behind the scenes work that all gel together to fill the airwaves with 3 hours of entertainment that Sirius XM can replay across the weekend schedule.
So who is Spyder Harrison? He is a likable person who does not see himself above the listener. Rather he see's himself as a fortunate person who worked his way up to where he is now. His history in the medium is the reason people respect him, and that is far better than having something handed to you on a silver platter. Because Spyder paid his dues in this business, we as Sirius XM fans enjoy the benefit. Simply stated, Spyder Harrison is one of the gems that make satellite radio so special.
Check out Spyder Harrison's Blog or follow him on Twitter.
Position - Long Sirius XM Radio