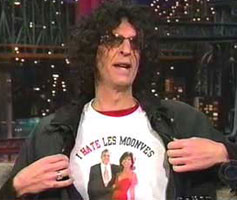 When Howard Stern was going from terrestrial to satellite, he was everywhere. When he knew he was in a position to get some bonuses, he hit the circuit talking up Sirius. Lately he has not been anywhere. Howard did not earn a bonus last year, and this year getting a bonus seemed promised to be an even harder task. The merger has happened, and Howard seems virtually silent.
Sure, he is in bumpers that air on both Sirius and XM, but where are the Letterman appearances? Where is the push to get the word out? Perhaps tying the lack of activity to a bonus is wrong, but money is a powerful motivator, and we did see a lot more activity when he did get bonuses than when we did not.
One frustrating moment came when Scott Greenstein suggested that Howard broadcast the show from the Super Bowl in January. Howard did not seem thrilled with the idea, indicated that his studio was in New York, and that live remotes are not as good as studio shows. While this may be true, live remotes bring their own promotional value, and listeners understand this. Besides, a live remote would give Howard exposure to people that otherwise have not heard Stern in quite some time.
Blaming Howard is easiest because he is the biggest name on satellite. Others should be doing the push as well. Where is Martha, Oprah, Opie and Anthony, Tony Stewart, Bubba The Love Sponge, Judith Regan, and Bob Edwards? Why not convince these satellite radio stars to give the medium a bit of a push during the Holiday season. We know Jay Thomas will hit Letterman as he does every year. Thomas always puts on a good appearance, but that is just one of what should be many opportunities to get more exposure for the Sirius XM brand.
The merger has happened. People have complained about the lack of advertising and exposure. With the recent channel shuffle now complete, I can see why the company held back a bit early on, but now is the time to make the push, and we need Howard Stern, as well as other stars to be a part of that push.
For the stars, bonuses would be great, but at this point, survival of the company should be a consideration as well. The days of easy money are gone, and now is the crucial time when those that make satellite radio great need to step up and pitch in.
The economy is bad. The credit markets are bad. The company is in the middle of trying to refinance, and certain metrics do not look rosy. Why not get all of the talent to point out the VALUE in satellite radio? Consumers want value, and satellite radio can deliver it. The message needs to be everything you can get for a small monthly fee, and the best people to sell that would be the talent on satellite radio.
Position: Long SIRI.