It is not bullish or bearish per se.  SiriusXM seems to be back to trading on light volume and simply consolidating.  It can certainly test $3.45 or so just as easily as it can test $3.30.  The good news is that the 13 day EMA is now up to $3.29, meaning that the narrower trading range has a decent support base just below current trading levels.  Testing above $3.45 will take a big volume share buyback, or compelling news.  I do not see either on the near term radar.  I think the biggest buybacks come after July.
Volume
We want to see a move on volume of 60 million or more to signify strength

Support and Resistance
Not much resistance above other than psychological.  However, no driving force either.  Support at $3.25 is the safety net, though there is some perceived strength at about $3.30.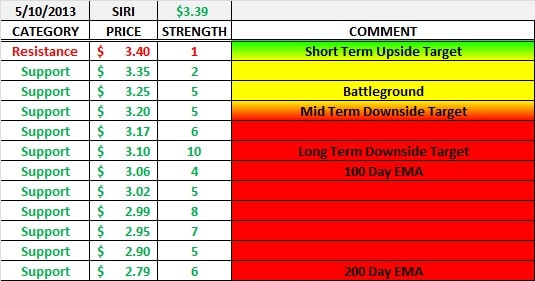 Exponential Moving Averages
Pay attention to the 13 day EMA.  It is the first line of defense, and a typical low when the trading range is narrow.