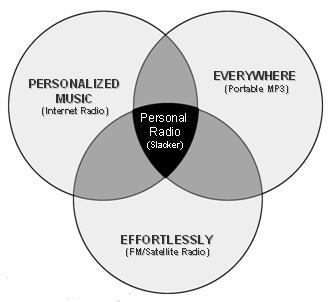 Ever since Slacker was announced, people have seen it, or at least the idea, as a competitor to satellite radio. Slacker's mission was to take the best attributes of various forms of audio entertainment and combine them into a consumer friendly service. With the help of leased space from satellites, and WiFi, Slacker envisions making the world far easier for consumers to access, store and listen to the content they want.
The goal of Slacker is simple. Make music simple.
According to Slacker, their research indicates that many consumers find it too cumbersome to update their MP3 players. Research from Arbitron/Edison, BBI, IDC, and surveys of thousands of audio entertainment users, illustrated tha certain consumer characteristics exist:
- 51% of all MP3 player users update the content on their player once per month or less.
- 46% don't update more often because they don't have the time
- 5% don't update more often because it's too technically difficult
- Over 100M portable music players sold globally each year, forecasted to continue through 2010.
- Internet Radio is not portable
- 52 million people in the US tune in to Internet Radio each month.
- 46% are daily listeners
- 50% annual growth rate
- 48% are dissatisfied with the lack of portability of their Internet Radio service
Slacker sees the competitive landscape in audio entertainment, and has sought out a niche that sits right in the middle of all of the various forms of audio entertainment. Slacker opted to sidestep the expense of launching satellites, and instead developed a method by which to lease satellite spectrum to deliver their content. This allows Slacker to deliver some of the best aspects of various audio entertainment platforms. While not a total solution, it does make things easier for consumers to access and control their music listening experience.
There are some who have said that Slacker, an upstart company, is not a big threat in the competitive landscape of audio entertainment. In my opinion, the success or failure of Slacker is not the determining factor of the competitive landscape. It is the technology that Slacker has demonstrated that helps to determine the competitive landscape. This is the type of thing that the Department of Justice and Federal Communications Commission need to consider as they weigh out the arguments regarding the merger. The competitive landscape of the near future is a major factor in this merger.
There is little doubt that consumers have more access than ever before to audio entertainment. There is also little doubt that audio entertainment will continue to grow and morph in the coming years.
Position - Long Sirius, Long XM