We have seen a bit of a run, and on Friday saw the equity test some highs on lower than average volume.  While there could be news, such as analyst upgrades that would compel this equity higher, the technicals are pointing to a break at some point in the near future.  Essentially I think that this equity can make a bit more of a run to the upside prior to settling down again.  A pps of $4.00 is looking harder to get to on this particular run, but it is in the sights of the next one.
The equity is hovering in the overbought range.  In my opinion any substantial move to the upside will tip the scales into overbought territory. Once an equity drifts into being overbought, the upside run is short lived (i.e. a few weeks left in the move).
What we want to see is the volume be around normal or higher as this equity makes a new move up.  The more controlled the move up, the stronger a foundation that will exist.
We have moderate support at $3.50.  We have uncharted waters above.  The 13 and 20 day EMA's provide some support at $3.66 and $3.60 respectively.  If we test higher it will help to establish better support.
We are seeing the EMA's running about the same with even some slight consolidation.  Essentially these levels are moving up in tandem with the stock price.  The good news is that the 50 day EMA is about to pass $3.50.  That will make support at $3.50 and above stronger for when the next sell off happens.
Volume

Support and Resistance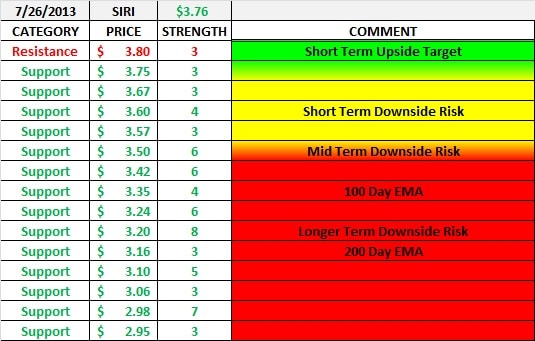 Exponential Moving Averages