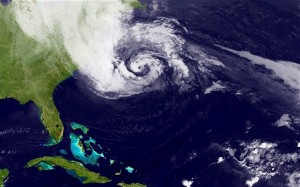 As you should be well aware of by now, Wall Street has a 2 day shut-down in progress and SiriusXM (NASDAQ:SIRI) has postponed its quarterly conference call to Thursday, November 1, 2012 at 8:00 AM Eastern.  Essentially we are looking at getting the quarterly news two days later than anticipated.  While that may not seem significant, it may well be VERY significant.  The street has not had time to do "final adjustments" prior to the call!
While most often the street gets in its final bets on SIRI on the Friday before the call, there is oft some final jockeying on the Monday that can cause wild swings in the price as investors bet on whether or not the news delivered in the call will be good or bad.  That opportunity was washed away by Superstorm Sandy.  Even when SiriusXM does have its call, things will be far from normal.  Being in New York City I can tell you that while the winds and storm surges are gone things are still far from normal.  The subway system that carries some 8 million people per day is still off line.  Finding a taxi this morning was even a challenge, I I was one of the few to venture out this morning.  Normalcy is days away!
If you are invested in SiriusXM Wednesday will certainly be interesting.  After two days off, the markets will prepare to open tomorrow and the street has a lot of preparation and catching up to do.  It could cause wild swings in equities and SiriusXM may not be immune.   A savvy trader may try to make some coin on this, but most investors may have a wait-and-see attitude.  That means fewer players in the market and some interesting action could ensue.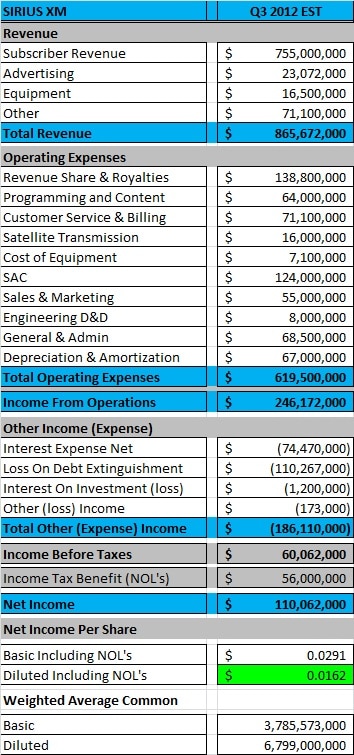 In my opinion the call will present a good quarter but the focus will be on bigger picture items rather than individual metrics.  I expect the company to report 2 cents on the heels of some one time charges related to debt and one time credits related to the NOL's.  A couple of key elements should be 2013 guidance and hopefully an announcement related to a share buyback or dividend of some sort.  These two issues will drive the action more than subscribers, ARPU, churn, penetration rate, etc.
This call will be all about how the information is presented.  I anticipate that the company will report the 2 cents and follow it with a statement that absent one time charges and credits that they would have had a 3 cent quarter, beating the street by a penny and performing 50% better than last year.
As I have been saying for quite some time, this quarter is not about Q3 as much as it is about the company going forward.  I anticipate the focus to be on revenue rather that Average Revenue Per User (ARPU).  I anticipate that the company will focus on Free Cash Flow moving forward more than the FCF for the quarter.  EBITDA of 2013 will be the story, not in Q3.  In essence, bigger picture items will rule the day.  While I know the street wants some certainty about Liberty, I am not anticipating getting very much on that subject at this call.
The usual metrics will be discussed, so it is worth covering them.
Subscribers
The company already announced the subscriber number for Q3.  They brought in a 445,000 new subs.  This was up from last year, but below Q3.  SiriusXM currently sits at about 1.5 million subscribers for the year with guidance of 1.8 million.  That would imply they only need 300,000 in Q4 to meet guidance.  One key is where the bar for next year will be set.  I am anticipating that they will start of 2013 subscriber guidance at what I call a conservative 1.8 million.
Churn
SiriusXM has been doing a lot of retention work.  This helps churn, but hurts ARPU.  This is one key element as to why I see the company shifting to a bigger picture presentation.  Churn for the quarter should be between 1.9% and 2.0%.  If it is at 1.9% there is less to worry about.  If it is at 2.0%, it means that the sub number delivered was low, but that retention efforts would have cut into ARPU more than desired.
Penetration Rate
This metric focuses on the percentage of satellite radio's installed in new cars.  Traditionally the company has been between 62% and 67%.  That area seems to be a sweet spot for satellite radio and I expect that the company will still be within that range.  There is no reason to go higher, because when they do, the benefit to the business is not as strong.  When cars become more Internet capable, I would expect the penetration rate to grow by at least 5 points.
Take Rate
This is the percentage of promotional subscriptions that convert to self paying subscriptions.  Essentially it is a measure of the demand consumers have for satellite radio.  Traditionally the company has a take rate of about 45%.  This means that out of 100 consumers with promotional subscriptions to satellite radio 45 will elect to keep the service and 55 will elect not to.  the 45% is a good number, and as long as we do not see that creep down to 40%, we are doing fine.  I anticipate the Take Rate for the quarter to be between 44.5% and 45.5%.
Average Revenue Per User (ARPU)
This metric will be interesting to watch as the comp[any moves forward.  In January of this year SiriusXM raised prices.  In theory, if they raise prices and keep churn in check, we can expect to see ARPU rise.  This has happened for the last two quarters, but the reality is that ARPU has seen a more gradual climb.  As stated earlier, there have been some substantial retention programs in play.  When the company retains a subscriber by lowering the price, ARPU is impacted.  ARPU last quarter was $11.97.  This quarter the company should be able to break $12.00 with ease.  I am looking for $12.13.  Higher that $12.13 would be a positive.  Lower that $12.13 would mean that retention efforts are getting bigger.
2013 Guidance
The key figures here are EBITDA, Free Cash Flow, and Subscriber Guidance.  The street will want to see EBITDA guidance of at least $1.1 billion, FCF Guidance of somewhere around $900 million, and subscriber guidance of at least 1.8 million.
Share Buyback
While there is certainly no requirement for the company to conduct a share buyback, it is HIGHLY anticipated at this point.  I anticipate that when announced (an it may not happen at this call) the buyback program will entail borrowing $1.5 billion and instituting a $3 billion buyback program.  Most analyst models are building in share buybacks as part of establishing their price targets.
All in all the company should report a good quarter and offer up some news that the street wants to see.  If they manage to get in good guidance and some news related to a share buyback, this equity can challenge $3.15.  It will be interesting to see how the market reacts, as we have all had time to pause.