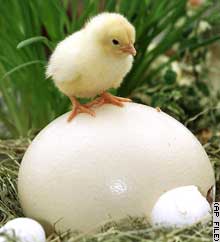 The conventional wisdom on the Sirius and XM merger has been that the Department of Justice would rule on the merger prior to the FCC, but, as we have outlined in previous articles that does not have to be the case. Still, most, myself included believe that the DOJ will act first. It simply stands to reason. So, what came first the chicken or the egg?
Now, new news may throw a wrench into the works of all of that conventional wisdom. In the Clear Channel purchase, the FCC has acted prior to the Department of Justice. An Associated Press story noted that the Clear Channel deal has been approved by all five FCC commissioners, but that the DOJ still needs to approve the deal, as it involves divestiture of nearly 450 radio stations. The Clear Channel deal was announced in November of 2006, but shareholders held out for more money, and finally approved a deal this past September for $39.20 per share.
For Sirius and XM merger watchers, a decision coming from the FCC first would pave the way for the companies closing on the merger. If, in theory, the FCC were to decide prior to the DOJ, the companies could move forward with merger plans unless the DOJ moved to block the merger, which would require some quick legwork down to a courthouse. In all likelihood, this will not happen, but the events transpiring in the Clear Channel deal should give investors a scenario to contemplate (as if there was already not enough speculation on the table already, this adds yet another possible situation).
Merger news is what investors are seeking at this point. Plain and simple. The lack of subscriber information from XM, no new product releases at CES, Deeper penetration in the OEM channel, weak retail numbers, and even fourth quarter performance speculation have not materially impacted these equities. All pricing action leads back to the merger.
At this point, whether it is the FCC or the DOJ, investors simply seek a decision.
Position - Long Sirius, Long XM, No Position Clear Channel