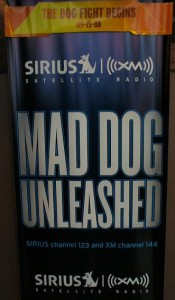 It seems that finally, Sirius XM is listening to its subscribers for once! Just over a week ago, I wrote a well received article titled "Sirius XM At Work." One of the items I mentioned came from a reader suggestion that was in reference to Mad Dog Radio not being available over the internet.
A lot of people including myself have high hopes for Sirius XM's first cross-branding effort that is Chris Russo. Unfortunately, many people miss the first 3 hours of the daily sports talk show simply because they are chained to a desk. Still many others would like to go in and be with their families, get changed and eat dinner from 5 - 7 p.m, rather than sit in their driveways.
I'm not actually sure when it occured, but Mad Dog fans - Your wish has been granted! Mad Dog Radio is now available on-line! So, whether you want to listen on the Internet via Sirius or XM, you now have that option.
Position: Long SIRI