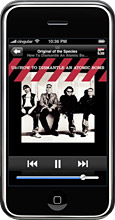 The arrival of the I-Phone is happening June 29th, and there are indeed many eager Apple aficionados that will be among the first to get their hands on this new gadget. For people who watch the satellite radio sector, the buzz surrounding the I-Phone will be interesting to watch. It is a test of loyalty to Apple over loyalty to a cell carrier, because AT&T has the I-Phone exclusive for the time being.
Mike McCormack, and analyst for Bear Sterns predicts that the I-phone could generate as much as 915,000 new subscribers to AT&T over the second half of the year, and impressive feat given the $500 price tag of the I-Phone, and how loyal people have become to some cell carriers.
McCormack predicts that the cell carriers with the best networks will suffer the least, and that the I-Phone could add as much as 4 cents per share to AT&T's 2008 earnings, and the new subscribers could well have Verizon and AT&T switching places in terms of market share. This is another impressive statistic.
As impressive as these items are, McCormack is among the analysts that are carrying more conservative estimates. There are analysts that project 22 million I-Phones in 2008! That number seems over the top to me, but Apple is a powerhouse, and they do have a very large and loyal consumer base. McCormack estimates about 1.7 million I-Phones will be manufactured and sold for the remainder of 2007.
For years, there seems to always be some scuttlebutt about Apple partnering up with Sirius or XM. It has not happened, and many feel that Apple simply has no need to partner into satellite radio. What the future holds is uncertain, but strong I-Phone sales could well put a damper on those with aspirations of an Apple partnership.
Those that follow the sector would do themselves a favor by keeping a finger on the pulse of the I-Phone, how well it is accepted by the general consumer, and how it impacts not only Apple, but AT&T.
Position – Long Sirius, Long XM, Long Verizon, No Position Apple, AT&T