Well, today's action made it happen.  Even if SiriusXM is in the market, it does not seem to be enough to hold up and support the equity at the moment.  SiriusXM went down today on higher than average volume.  It has broken through the 5, 13, and 20 day averages and now puts us in a position of having to look to the 50 day EMA as support.  I spoke of this in recent days, and while I believed the odds of testing the 50 were low, we need to consider it.
The 50 day EMA sits at $3.33.  The next support level below is also $3.33.  The level at $3.33 also happens to be my downside mid term target.  Resistance above is at $3.49.
As we can see, the volume was high.  We need to be very careful here.  If I had to bet, I would bet that this equity will test $3.33 before it tests $3.50.  Pay close attention and be careful.
Volume (I solved the spreadsheet upload error)

Support and Resistance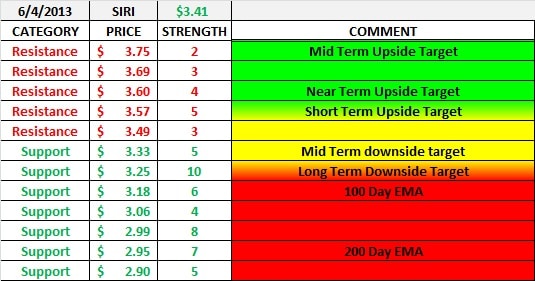 Exponential Moving Averages