Just when it appears all of the stars will align and this equity can make a run, none of the stars align.  SiriusXM certainly has the subscriber data in hand, but as yet has not delivered it.  SiriusXM is rumored to have personalized radio (MyControl) just about ready, but as yet no launch.  The fiscal cliff has been averted, but then again maybe not.  What we saw today was that there is simply not enough strength as yet to deliver a bolder move.
The SiriusXM story is never an easy one.  The company is doing many things right, but as yet the equity does not really reflect that.  Time will allow the stock price to appreciate, but being patient can be a challenge.  We still have bullish signs across the board, but frankly they simply are not bullish enough to deliver the move we want to see.  In many ways this equity is pent up and awaiting that one compelling piece of information that can take it to the next level.
Volume
SiriusXM traded lightly today with only about 48 million shares changing hands.  This is in stark contrast to the over 100 million we saw traded in the last session.  For all intents this would appear to be a peak or crest right now.  Tomorrow will confirm whether or not this is the case, but simply stated...If the equity had strength it would have moved.

As stated yesterday, we want to see SiriusXM pass $3.15 on heavy volume.  Right now that is at least 75 million shares, and likely more like 85 million.  Volume as light as today would seem to indicate that the gas that fueled the run up to $3.10 is empty.  At least for the moment.  We want to see volume pick back up, even if it is a slow build.
Support and Resistance
Support and resistance is looking pretty good and stable.  We have pretty much the same levels in place though we are now seeing some spreading and consolidating.  The strongest support level is now down at about $2.83 and we are seeing light resistance at current levels and above.  This is almost a "proceed with caution" area right now.  While signs point that the equity can run up to about $3.25 if the circumstances were right, there is also a potential of hanging out in current areas.
Exponential Moving Averages - EMA's
The exponential moving averages remain all bullish and there is no real sign off caution flags for tomorrows action.  We have a 5 cent gap between current levels and the 5 day moving average.  This is wiggle room that allows some range trading to continue.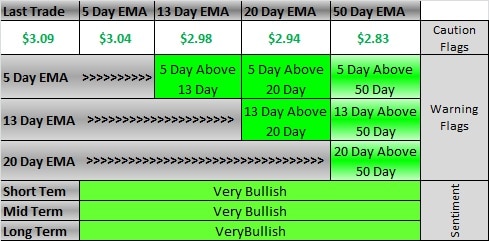 Essentially we are looking for some news to drive the stock now.  Any potential news should be positive.  That means that even if the equity is range trading there will be a bias to the upside on news.  The more the news is already anticipated the less the upside.