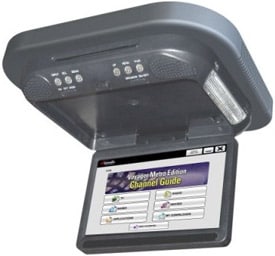 USTelematics has announced a deal that will integrate Sirius' music programming and offer Sirius subscriptions to users of the Voyager infotainment unit.
Voyager provides live and downloaded wireless mobile internet protocol TV (IPTV) and audio programming for rear-seat passenger vehicle infotainment, and integrates a broad suite of features and functions, including the creation of a mobile Wi-Fi internet hotspot to enable online computer usage in the car and on the road, as well as DVD, movies, TV, Xbox and other computer games, and more.
The jack of all trades flip down unit runs all WinXP software, retails for around $999, and installs in place of the domelight in most vehicles. It should also be noted that Apple solidified a deal with USTelematics back in December of 07 to bring iTunes to the Voyager unit.