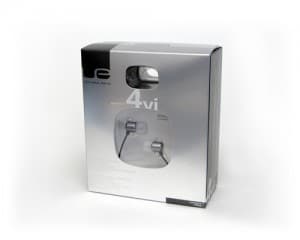 If you listen to satellite radio, you may have recently heard a company called Ultimate Ears advertising their products. Ultimate Ears is the leading supplier of in-ear-monitors with a client list includes professional musicians which represent a who's who list of entertainers in every musical genre. With consumers seeking quality gear to listen to their tunes, Ultimate ears has added a consumer line that will let the average person enjoy sound quality like they never have before.
I recently received the Ultimate Ears iPhone-compatible SUPER.Fi 4vi, and can state that not only was I impressed with the sound quality, but so impressed that I have now removed my "noise cancellation" headphones from my carry-on travel bag, and replaced them with these great in-ear-monitors.
The great sound and clarity alone was enough to make me switch, but it is perhaps the additional features that will truly impress. The SUPER.Fi 4vi is iPhone compatible. Not only can you catch your tunes, but also take your calls! Not an iPhone user? Never fear, the SUPER.Fi 4vi works with virtually any audio device delivering high quality sound. Hook up your iPod, Stiletto, Inno, Zune, or whatever device you want, and hear the difference that Ultimate ears delivers.
The company states, "The SUPER.Fi 4vi's light-weight aluminum body provides unsurpassed sound quality music lovers have learned to expect from Ultimate Ears. The warmth of the audio signature results in the fullest sound ever obtained by a single armature and lends itself to an exceptional listening experience." Press releases can sometimes be full of hype, and it can be challenging for a product to live up to expectations. I can honestly say that I found that the SUPER.Fi 4vi surpassed my expectations.
For iPhone users, the SUPER.Fi 4vi's voice functionality works directly through the iPhone headphone jack. An easy answer button on the headphone cord allows users to pause media applications, skip through songs and answer or end calls. The beauty is that the control of the headphones is as simple as the controls on an iPhone. The in-line microphone is positioned for maximum voice clarity whether you wear them in the standard manner, or over the ear.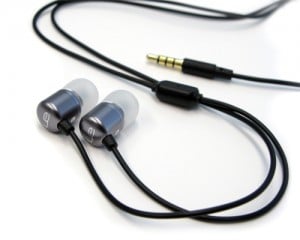 "The SUPER.Fi 4vi is an ideal upgrade for iPhone users," said Mindy Harvey, president and founder of Ultimate Ears. "This cutting-edge mobile phone deserves the best earphones on the market. We are thrilled to release a premium product for chic, trend-setting iPhone users."
A high quality in-ear-monitor needs to have a proper fit, and Ultimate ears has made sure that they have you covered. The SUPER.Fi 4vi features newly designed tips have a smaller diameter and are tapered, allowing for better fit and comfort with improved noise isolation. SUPER.Fi 4vi includes five options of ear tips to ensure a secure fit: (1) small, (2) medium, (1) large soft silicon ear tips and (1) dual-flange silicon set. Also in-package is the newly designed smooth plastic carrying case. While this may not seem to be a big deal, it was great for me as I got on and off of planes. The case fit smoothly in my pocket, and I did not have the tedious task of untangling my head phones from cell phone and computer cables in my carry-on bag.
Ultimate Ears' SUPER.Fi 4vi can be purchased at Apple Stores and www.ultimateears.com for $149.99.
Position - Long SIRI