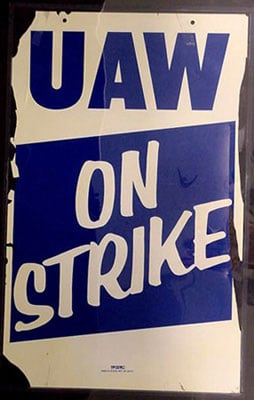 The 11:00 deadline came and passed without the UAW and Chrysler reaching an agreement, and now workers in 17 out of 22 Chrysler plants have exchanged their post on the assembly line for a picket sign. Analysts following the issue seem pretty consistent in their assessment that the strike will last longer than the two day General Motors strike of two weeks ago
The heart of the issue seems to revolve around health care and job security for the union side, and competitiveness and the bottom line for the private equity owners of Chrysler. It is estimated that the strike will cost Chrysler $50,000,000 per day. At this point no time-frame has been set for talks to resume. The nearly 50,000 workers that are now on strike will receive strike pay of only $200 per week. At this point, if the strike is not mere posturing, the question may be whether Chrysler's existing inventory will outlast the works desire to live off of $200 per week. More news on where things stand should become available over the next 24 hours.
For investors in Sirius, there are two issues to consider. The first is obviously production of vehicles which translates into subscribers. We estimate that the impact could be in the neighborhood of 4,000 subscribers per day that were anticipated as being in the Q4 subscriber counts. The second issue centers around the launch of Sirius Backseat Television. Chrysler is just now launching vehicles with the service, but new production has now ceased. Chrysler has a one year OEM exclusive on the product, and while some Sirius Backseat Television equipped vehicles are available, the pipeline will dry quickly as there is not a large inventory of 2008 vehicles on dealer lots at this point.
Position – Long Sirius, XM. No position OEM's