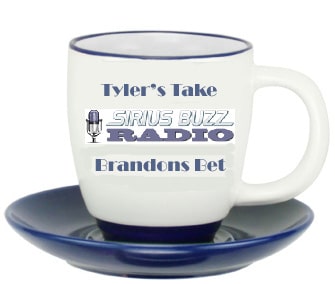 SiriusBuzz.com and SiriusBuzz Radio are proud to introduce a new feature that readers and listeners will be sure to like. We have now launched Tyler's Take, and Brandon's Bet. These are mini radio shows that offer insight on the week ahead as well as commentary on a subject that we feel should get a little coverage.
Each show will be available by Monday morning, and each show will be between 5 minutes and 15 minutes in length. This gives SiriusBuzz readers and listeners a chance to grab a Monday Morning coffee, and get a brief glimpse of the week ahead. Additionally, you have two individual opinions to listen two each week, as Tyler and Brandon do their own pieces with their own thoughts and style. Catch one or both shows by simply clicking on the "Tyler's Take" or "Brandon's Bet" section in the SiriusBuzz Radio section of the site (right side bar). For regular SiriusBuzz listeners, these shows are run through our standard SiriusBuzz Radio platform.
This week Brandon covered the Merrill, Goldman, and Barclays news that was issued late Friday. Tyler covered the same topic briefly, but then went into an opinion on whether shareholders should want a "Poison Pill" for Sirius XM Radio. A poison pill when implemented makes it more difficult for a company to be taken over in a hostile take-over.
Grab a coffee, listen to the shows, and leave your opinions here as a comment.
Position - Long SIRI