We are above the 200 day EMA, but below the desired level of $3.60.  All signs point to closing out the year within this range.  The action has now built a resistance wall at $3.56.  Essentially, we have strength in the resistance above us and weakness in support below.  That means that we need to keep $3.40 on the radar screen.
In the longer term there is a lot to be bullish about.  However, in the shorter term, the company will have challenges.  As I have said before, the subscriber numbers in Q4 will not be pretty.  The price increase in January will show the churn before we see any financial benefit.  The company has the costs of the Agere acquisition and the satellite launch to contend with, and adding insult to injury, the price set for buying the Liberty shares is higher than the current price of the equity.  Liberty scored a win again!
This will be an abbreviated week.  Watch the volume, and watch to see if we hold $3.50.  December auto sales are on tap, and the perception should be good, but again, the sub numbers will be impacted by the GM deal.  If $3.50 does not hold, the equity could make a small run down toward $3.40.  We will now need to test the wall at $3.56 a couple of times before breaking through.
The EMA chart brought back all of the caution flags.  It appears that consolidation will hap[pen in the low $3.60's.
Volume
Support and Resistance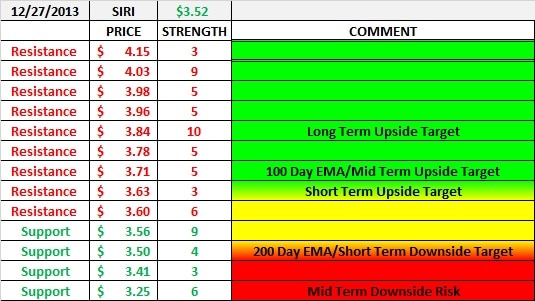 Exponential Moving Averages