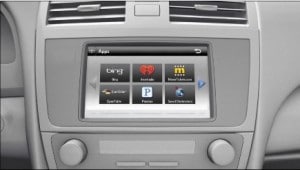 Here at the New York International Auto Show Toyota has a pretty substantial space dedicated to their audio/information platform called EnTune. Like most every auto maker at the show, Toyota wants to show off their latest technological advancements and for most OEM's that means demonstrating their integration of the smart phone into the car.
I took the time to attend a brief "walk-through" of EnTune with about 14 other people. My initial impression is that Entune has a very simple user interface and utilizes 6 apps to accomplish several things that a driver will want. The Entune platform currently uses Pandora, iHeartRadio, MovieTickets.com, Bing, and Open Table and all their respective icons, along with a "last destination" icon are displayed on the cars touch screen stereo system.
Users must go to another menu to access terrestrial radio or Sirius XM. Thankfully, XM data packages such as traffic, navigation, etc. get slots on the screen in their menu.
Noticeably missing are social media giants Facebook and Twitter. Different car companies have taken differing stances on the inclusion of certain apps within their platform. Driver distraction is a key concern with these new stereos connected to the web through smart-phones. In the case of Toyota's EnTune certain functions can only be accessed when the car is stopped or traveling under 5 mph. For example, you can not be driving 75 on the freeway and buy movie tickets.
One impressive aspect of Entune is that the apps bring your information on Pandora, IHeartRadio, MovieTickets.com, and Open Table to your stereo screen. If you have your credit card information stored in those apps on your phone, they are you can complete your purchase on the car stereo rather than on the phone itself. Think of Entune as a "computer monitor" for your cell phone.
For satellite radio investors this news might be frustrating. Throughout the presentation there was barely a mention of satellite radio, and the functionality of the satellite radio was not working due to lack of signal and no terrestrial repeater in the Javits Center. The big winners at the Toyota display and throughout the presentation were Pandora and iHeartRadio. Press members were thrilled to be able to find their local terrestrial radio station through Clear Channel's iHeartRadio in New York, thousands of miles away.
When asked about Pandora only one out of the fifteen press people I was with did not have a Pandora account. In fact, the Toyota rep let a couple of people "sync" their own smart-phone to the stereo and play from their own Pandora channels.
Is Sirius XM so accepted now that it is an afterthought? I could not help but think of the frustration terrestrial radio must have had as Sirius XM was being prominently featured at auto show after auto show in years past. This year, at the NYIAS Sirius XM has virtually no presence, while Pandora, Stitcher, and other Internet based services are everywhere.
Should Sirius XM be more present at these shows? I think so, but I am just a satellite radio fan who wants to see Sirius XM grow and is a bit uncomfortable seeing the satellite radio provider take a back seat.
It looks like 2011 auto show circuit will pass without much news on Sirius XM. One potential feature that could bring satellite radio back to center stage will be satellite radio 2.0. Hopefully the features announced with the roll-out will be substantial enough to invigorate consumers with yet another thirst for satellite. This year, Sirius XM, like AM and FM, is just another button on the dashboard.
Position – Long Sirius XM Radio